Teddiursa Pokédex Information
Teddiursa is a Normal type Pokémon that first appeared in the games Pokémon Gold and Silver which were released in Japan in November 1999. 
Teddiursa is a small, two-legged bear that is covered with brown fur. It has a yellow muzzle and a cream coloured crescent on its forehead. The claws on its feet and hands are very sharp. This Pokémon discreetly follows Combee to find their hive. It scoops up big dollops of honey in its palms to eat.
Contents
Teddiursa Pokédex Facts
Evolutions
Teddiursa Pokédex Entries
TCG Cards
Teddiursa Pokédex Facts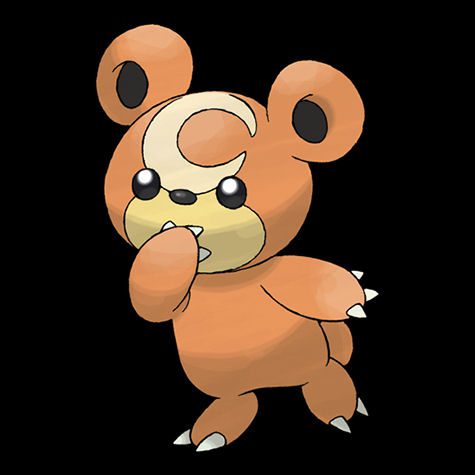 English Name – Teddiursa
Japanese Name – Himeguma
First Appearance – 1999 (Pokémon Gold and Silver)
Based on – Bear
Generation – II
Pokédex Number – 0216
Category – Little Bear
Height – 0.6 m
Weight – 8.8 kg
Gender – Male, Female
Type –  Normal
Weakness – Fighting
Special Abilities – Pick Up, Quick Feet
Teddiursa Evolutions
Evolution – Teddiursa evolves to Ursaring (level 30); evolves to Ursaluna (with peat block during a full moon)
| | | |
| --- | --- | --- |
| Teddiursa | Level 30 | Ursaring |
| Peat Block during Full Moon | Ursaluna | |
Teddiursa Pokédex Entries / Games
Gold and Silver  1999
Pokémon Crystal 2000
Pokémon Stadium 2 2000
Ruby and Sapphire  2002
Pokémon Emerald  2004
FireRed and LeafGreen  2005
Diamond and Pearl  2006
Platinum  2008
HeartGold and SoulSilver  2009
Pokémon Black and White  2011
Black 2 and White 2  2012 
Pokémon X and Y  2013
Omega Ruby, Alpha Sapphire  2015  
Brilliant Diamond, Shining Pearl  2021
Pokémon Legends Arceus 2022
Scarlet and Violet 2022
Teddiursa Card List – (scroll to bottom for gallery view)
Neo Discovery 2001

Stage – Basic
HP –  40
Speciality – None
Card Number – 65/75
Skyridge 2003

Stage – Basic
HP –  40
Speciality – None
Card Number – 109/144
EX Unseen Forces 2005

Stage – Basic
HP – 40
Speciality – None
Card Number – 77/115
DP Mysterious Treasures 2007


Stage – Basic
HP – 60
Level – 20
Card Number – 105/123
HGSS Unleashed 2010


Stage – Basic
HP – 60
Speciality – None
Card Number – 65/95
HGSS Call of Legends 2011

Stage – Basic
HP – 50
Speciality – None
Card Number – 73/95
BW Plasma Blast 2013

Stage – Basic
HP – 70
Speciality – None
Card Number – 75/101
BW Radiant Collection 2013

Stage – Basic
HP – 60
Speciality – None
Card Number – RC15/RC25
XY BREAKThrough 2015


Stage – Basic
HP – 70
Speciality – None
Card Number – 121/162
SM Cosmic Eclipse 2019

Stage – Basic
HP –  60
Speciality – None
Card Number – 171/236
SWSH Darkness Ablaze 2020

Stage – Basic
HP –  140
Speciality – None
Card Number – 138/189
SWSH Evolving Skies 2021

Stage – Basic
HP –  70
Speciality – None
Card Number – 126/203
SWSH Astral Radiance 2022


Stage – Basic
HP –  70
Speciality – None
Card Number – 122/189
Gallery