Sneasel Pokédex Information
Sneasel is a Dark / Ice type Pokémon that first appeared in the games Pokémon Gold and Silver which were released in Japan in November 1999. It evolves to Weavile.
Sneasel is a two-legged character that is based on a weasel. In regular form it has a dark blue body with a red feather in its left ear and red tail feathers. It has large white claws on its hands and feet. This cunning Pokémon hides under the cover of darkness, waiting to attack its prey.
When found in Hisui it is a Fighting / Poison type character. In Hisuian form its body is white and its ear and tail feathers are blue. Its claws are also blue. Its sturdy, curved claws are ideal for traversing precipitous cliffs. From the tips of these claws drips a venom that infiltrates the nerves of any prey caught in Sneasel's grasp.
Contents
Sneasel Pokédex Facts
Evolutions
Sneasel Pokédex Entries
TCG Cards
Sneasel Pokédex Facts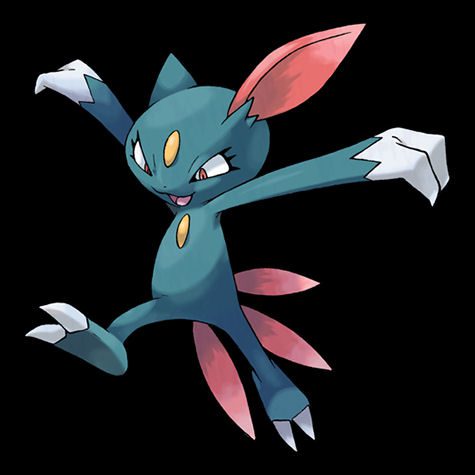 English Name – Sneasel
Japanese Name – Nyūra
First Appearance – 1999 (Pokémon Gold and Silver)
Based on – Weasel
Generation – II
Pokédex Number – 0215
Regular Form
Category – Sharp Claw
Height – 0.9 m
Weight – 28 kg
Gender – Male, Female
Primary Type –  Dark
Secondary Type – Ice
Weakness – Bug, Fairy, Fighting, Fire, Rock, Steel
Special Abilities – Inner Focus, Keen Eye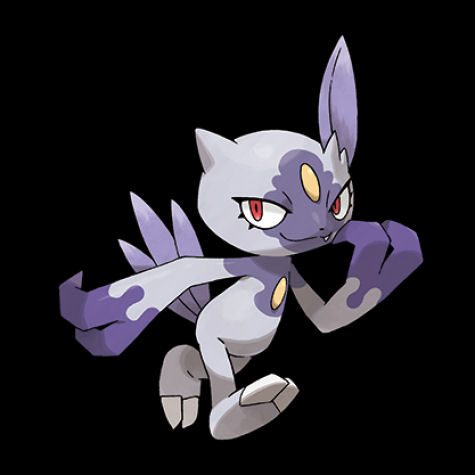 Hisuian Form
Category – Sharp Claw
Height – 0.9 m
Weight – 27 kg
Gender – Male, Female
Primary Type –  Fighting
Secondary Type – Poison
Weakness – Bug, Fairy, Fighting, Fire, Rock, Steel
Special Abilities – None
Sneasel Evolutions
Evolution – Sneasel evolves to Weavile (Level Up with Razor Claw at night); Hisuian Sneasel evolves to Sneasler (with Razor Claw in daytime)
| | | |
| --- | --- | --- |
| Sneasel | Level Up with Razor Claw at night | Weavile |
| Hisuian Sneasel | Level Up with Razor Claw during day | Sneasler |
Sneasel Pokédex Entries / Games
Gold and Silver  1999
Pokémon Crystal 2000
Pokémon Stadium 2 2000
Ruby and Sapphire  2002
Pokémon Emerald  2004
FireRed and LeafGreen  2005
Diamond and Pearl  2006
Platinum  2008
HeartGold and SoulSilver  2009
Pokémon Black and White  2011
Black 2 and White 2  2012 
Pokémon X and Y  2013
Omega Ruby, Alpha Sapphire  2015  
Sun and Moon  2016
Ultra Sun and Ultra Moon  2017
Pokémon Sword and Shield  2019
Brilliant Diamond, Shining Pearl  2021
Pokémon Legends Arceus 2022
Scarlet and Violet 2022
Sneasel Card List – (scroll to bottom for gallery view)
Neo Genesis 2000


Stage – Basic
HP –  60
Speciality – None
Card Number – 25/111
Neo Revelation 2001

Stage – Basic
HP –  60
Speciality – None
Card Number – 24/64
Best of Game 2002


Stage – Basic
HP –  60
Speciality – None
Card Number – #5
Aquapolis 2003


Stage – Basic
HP –  60
Speciality – None
Card Number – 110/147
EX Ruby and Sapphire 2003


Stage – Basic
HP – 80
Speciality – ex
Card Number – 103/109
EX Team Rocket Returns 2004


Stage – Basic
HP – 90
Speciality – ex
Card Number – 103/109
Diamond and Pearl Base Set 2007


Stage – Basic
HP – 60
Level – 21
Card Number – 100/130
DP Legends Awakened 2008

Stage – Basic
HP – 60
Level – 23
Card Number – 120/146
HGSS Undaunted 2010


Stage – Basic
HP – 60
Speciality – None
Card Number – 68/90
BW Next Destinies 2012


Stage – Basic
HP – 60
Speciality – None
Card Number – 69/99

BW Plasma Freeze 2013

Stage – Basic
HP – 70
Speciality – None
Card Number – 65/116
XY Flashfire 2014

Stage – Basic
HP – 60
Speciality – None
Card Number – 50/106

Stage – Basic
HP – 60
Speciality – None
Card Number – 51/106
XY Steam Siege 2016


Stage – Basic
HP – 60
Speciality – None
Card Number – 60/114
SM Burning Shadows 2017


Stage – Basic
HP –  70
Speciality – None
Card Number – 85/147
SM Ultra Prism 2018

Stage – Basic
HP –  70
Speciality – None
Card Number – 73/156
SM Celestial Storm 2018


Stage – Basic
HP –  60
Speciality – None
Card Number – 86/168
SM Unified Minds 2019

Stage – Basic
HP –  70
Speciality – None
Card Number – 131/236
SM Cosmic Eclipse 2019

Stage – Basic
HP –  70
Speciality – None
Card Number – 43/236
SWSH Chilling Reign 2021


Stage – Basic
HP –  70
Speciality – None
Form – Rapid Strike
Card Number – 030/198
SWSH Brilliant Stars 2022


Stage – Basic
HP –  70
Speciality – None
Card Number – 086/172
SWSH Astral Radiance 2022


Stage – Basic
HP –  70
Speciality – None
Card Number – 092/189
SV Paldea Evolved 2023

Stage – Basic
HP –  70
Speciality – None
Card Number – 133/193
Gallery