Vikavolt Pokédex Information
Vikavolt first appeared in the game Pokémon Ruby and Sapphire which released in Japan on November 21st 2002. 
Vikavolt is a flying insect that is based on a Stag Beetle. It has four legs and two large wings that cover its body. Two smaller wings extend upwards. It has an orange face that is covered by a blue triangular plate and two large blue and yellow mandibles that protrude forwards. It builds up electricity in its abdomen, focuses it through its jaws, and then fires the electricity off in concentrated beams.
Contents
Vikavolt Pokédex Facts
Evolutions
Vikavolt Pokédex Entries
TCG Cards
Vikavolt Pokédex Facts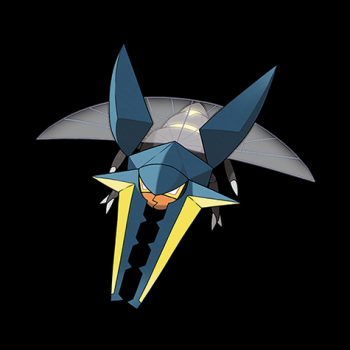 English Name – Vikavolt
Japanese Name – Kuwaganon
First Appearance – 2016 (Sun & Moon)
Based on – Stag Beetle
Generation – VII
Pokédex Number – 738
Category – Stag Beetle
Height – 1.5 m
Weight –  – 45 kg
Gender – Male, Female
Primary Type – Bug
Secondary Type – Electric
Weakness – Fire, Rock
Special Ability – Levitate
Vikavolt Evolution
Evolution – Grubbin evolves to Charjabug (level 20); evolves to Vikavolt (with Thunder Stone)
| | | |
| --- | --- | --- |
| Grubbin | Level 20 | Charjabug |
| Thunder Stone | Vikavolt | |
Vikavolt Pokédex Entries / Games
Sun & Moon 2016
Ultra Sun and Ultra Moon 2018
Sword and Shield 2019
Vikavolt Card List – (scroll to bottom for gallery view)
Sun and Moon Promo Cards 2017 – 2019


Stage – 2
HP – 150
Speciality – None
Card Numbers – SM28

Stage – 2
HP – 150
Speciality – None
Card Numbers – SM208
Sun and Moon Base Set 2017 

Stage – 2
HP – 150
Speciality – None
Card Numbers – 52/149
SM Guardians Rising 2017


Stage – 2
HP – 240
Speciality – GX
Card Numbers – 45/145

Stage – 2
HP – 240
Speciality – GX
Card Numbers – 134/145

Stage – 2
HP – 240
Speciality – GX
Card Numbers – 152/145
SM Unbroken Bonds 2019


Stage – 2
HP – 150
Speciality – None
Card Numbers – 59/214
SWSH Rebel Clash 2020


Stage – 2
HP – 150
Speciality – None
Card Numbers – 066/192
SWSH Darkness Ablaze 2020

Stage – Basic
HP – 210
Speciality – V
Card Numbers – 060/189
Stage – Basic
HP – 210
Speciality – V
Card Numbers – 180/189
SWSH Fusion Strike 2021 

Stage – 2
HP – 150
Speciality – None
Card Numbers – 101/264
Gallery