Wooloo Pokédex Information
Wooloo first appeared in the games Pokémon Sword and Shield which released in November 2019. 
Wooloo is a four-legged character that is based on a sheep. Its body is completely covered in fluffy white wool and its legs are just visible beneath. Its face is black in colour and is framed by two grey pigtails either side. Its curly fleece is such an effective cushion that this Pokémon could fall off a cliff and stand right back up at the bottom, unharmed.
Contents
Wooloo Pokédex Facts
Evolutions
Wooloo Pokédex Entries
TCG Cards
Wooloo Pokédex Facts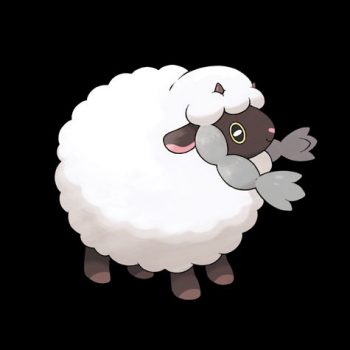 English Name – Wooloo
Japanese Name – Ūrū
First Appearance – 2019 (Pokémon Sword and Shield)
Generation – VIII
Based on – Sheep
Pokédex Number – 831
Category – Sheep
Height – 0.6 m
Weight – 6 kg
Gender – Male or Female
Type – Normal
Weakness – Fighting
Special Ability – Run Away, Fluffy
Wooloo Evolutions
Evolution – Wooloo evolves to Dubwool (level 24)
Wooloo Pokédex Entries / Games
Pokémon Sword and Shield 2019
Wooloo Card List – (scroll to bottom for gallery view)
Sword and Shield Promo Cards 2020 – 

Stage – Basic
HP – 60
Speciality – None
Card Number – SWSH011
Sword and Shield Base Set 2020

Stage – Basic
HP – 70
Speciality – None
Card Number – 152/202

Stage – Basic
HP – 70
Speciality – None
Card Number – 153/202
SWSH Shining Fates 2021


Stage – Basic
HP – 
Speciality – None
Card Numbers – SV103/SV122 
SWSH Fusion Strike 2021

Stage – Basic
HP – 60
Speciality – None
Card Numbers – 221/264
Stage – Basic
HP – 70
Speciality – None
Card Numbers – 222/264
SWSH Crown Zenith 2023


Stage – Basic
HP – 70
Speciality – None
Card Numbers – 121/159
Gallery