Bidoof Pokédex Information
Bidoof first appeared in the game Pokémon Diamond and Pearl which released in Japan on September 28th 2006. 
This Pokémon is four-legged and resembles a beaver and a mouse. It has light brown fur with a cream face and underbelly. Its tail is short bushy. With nerves of steel, nothing can perturb it. It is more agile and active than it appears.
Contents
Bidoof Pokédex Facts
Evolutions
Bidoof Pokédex Entries
TCG Cards
Bidoof Pokédex Facts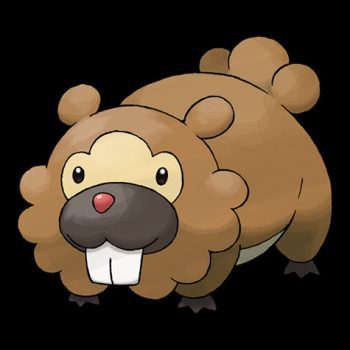 English Name – Bidoof
Japanese Name – Bippa
First Appearance – 2006 (Pokémon Diamond and Pearl)
Based on – Beaver / Mouse
Generation – IV
Pokédex Number – 399
Category – Plump Mouse
Height – 0.5 m
Weight – 20 kg
Gender – Male, Female
Type – Normal
Weakness – Fighting
Special Abilities – Simple, Unaware
Bidoof Evolutions
Evolution – Bidoof evolves to Bibarel (level 15)
Bidoof Pokédex Entries / Games
Diamond and Pearl  2006
Platinum  2008
HeartGold and SoulSilver  2009
Pokémon Black and White  2011
Black 2 and White 2  2012
Pokémon X and Y  2014   
Omega Ruby, Alpha Sapphire  2015  
Brilliant Diamond, Shining Pearl  2021
Legends Arceus  2022
Bidoof Card List – (scroll to bottom for gallery view)
Diamond and Pearl Base Set 2007

Stage – Basic
HP – 50
Level – 10
Card Number – 70/130
DP Mysterious Treasures 2007


Stage – Basic
HP – 60
Level – 11
Card Number – 73/123
POP Series 6 2007


Stage – Basic
HP – 50
Level – 11
Card Number – 11/17
DP Stormfront 2008


Stage – Basic
HP – 60
Level – 13
Card Number – 54/100
Platinum Supreme Victors 2009

Stage – Basic
HP – 60
Level – 12
Card Number – 91/147
BW Dragons Exalted 2012

Stage – Basic
HP – 70
Speciality – None
Card Number – 106/124
XY Kalos Starter Set 2013

Stage – Basic
HP – 70
Speciality – None
Card Number – 29/39
XY Base Set 2014

Stage – Basic
HP – 60
Speciality – None
Card Number – 106/146
XY Primal Clash 2015


Stage – Basic
HP – 70
Speciality – None
Card Number – 116/160
Stage – Basic
HP – 70
Speciality – None
Card Number – 117/160
SM Unified Minds 2019

Stage – Basic
HP – 70
Speciality – None
Card Number – 171/236
Sword and Shield Promo Cards 2020-2023

Stage – Basic
HP – 70
Speciality – None
Card Number – SWSH177
SWSH Brilliant Stars 2022

Stage – Basic
HP – 70
Speciality – None
Card Number – 120/172
Pokémon Go 2022

Stage – Basic
HP – 70
Speciality – None
Card Number – 059/078
SWSH Crown Zenith 2023

Stage – Basic
HP – 60
Speciality – None
Card Number – 111/159
Stage – Basic
HP – 60
Speciality – None
Card Number – GG29/GG70
Gallery