Evolving Skies Booster Products Artwork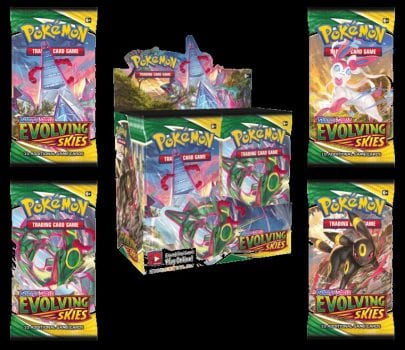 Pokémon have revealed the artwork for the Evolving Skies expansion set due to be released on 27th August 2021. 
The artwork for the Booster Box and Booster Packs sees green and yellow featuring heavily, which reflects the colours used for the set logo.
Booster Boxes contain 36 Booster Packs and generally work out much cheaper than buying Booster Packs individually.
The artwork for the Booster Packs features four different Pokémon: Rayquaza, Sylveon, Umbreon and Duraludon.
Elite Trainer Boxes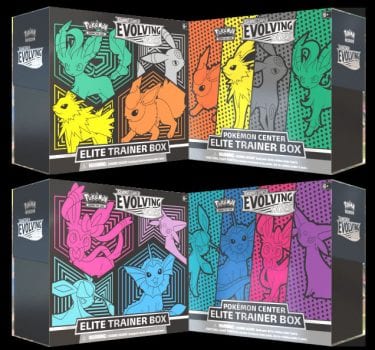 The artwork for the Evolving Skies Elite Trainer Boxes has also been revealed.
There will be an unprecedented four Elite Trainer Boxes released with the Evolving Skies expansion. Two will be regular Elite Trainer Boxes while the other two will be new Pokémon Center Elite Trainer Boxes.
The contents of the regular boxes has been revealed and will include similar products to Elite Trainer Boxes of earlier sets including 8 Evolving Skies Booster Packs.
The contents of the new Pokémon Center boxes has not yet been revealed.
Each type of box is available in two colour schemes: 
Orange, Yellow and Green featuring Umbreon, Flareon, Jolteon, and Leafeon
Pink, Blue and Purple featuring Sylveon, Vaporeon, Glaceon, and Espeon.