Rayquaza Pokédex Information
Rayquaza is a Dragon / Flying type Pokémon that first appeared in the game Pokémon Ruby and Sapphire which released in Japan on November 21st 2002. Together with Kyogre and Groudon it forms the Legendary Weather Trio.
This Pokémon is a large snake-like creature that is predominantly green in colour with yellow and pink markings. It has two limbs each with three claws. It has propeller-type structures along its body and a rudder-shaped end to its tail. Rayquaza is said to have lived for hundreds of millions of years. Legends remain of how it put to rest the clash between Kyogre and Groudon.
In Mega Form it is nearly 4 metres longer and has a more mechanised appearance. It has red / gold streamers attached to its ears and one attached to its body. It also has shiny red / gold glowing gems along its body. 
Contents
Rayquaza Pokédex Facts
Evolutions
Rayquaza Pokédex Entries
TCG Cards
Rayquaza Pokédex Facts
English Name – Rayquaza
Japanese Name – Rekkūza
First Appearance – 2002 (Pokémon Ruby and Sapphire)
Based on – Snake / Dragon
Generation – III
Pokédex Number – 384
Category – Sky High
Height – 7 m
Weight – 206.5 kg
Gender – Unknown
Primary Type – Dragon
Secondary Type – Flying
Weaknesses – Dragon, Fairy, Ice, Rock
Special Abilities – Air Lock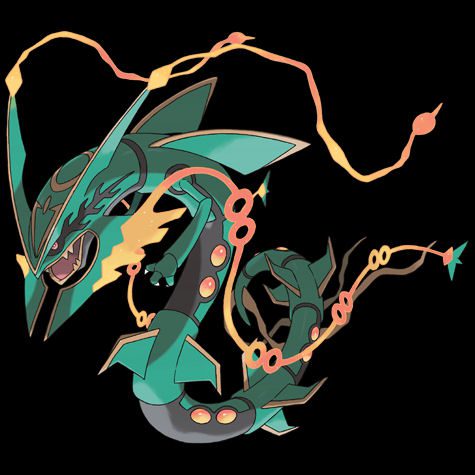 Mega Form Rayquaza
Category – Sky High
Height – 10.8 m
Weight – 392 kg
Gender – Unknown
Primary Type – Dragon
Secondary Type – Flying
Weaknesses – Dragon, Fairy, Ice, Rock
Special Abilities – Delta Stream
Rayquaza Evolutions
Evolution – Rayquaza does not evolve  
Rayquaza Pokédex Entries / Games
Ruby and Sapphire  2002
FireRed, LeafGreen  2004
Pokémon Emerald  2004
Diamond and Pearl  2006
Platinum  2008
HeartGold and SoulSilver  2009
Pokémon Black and White  2011
Black 2 and White 2  2012
Pokémon X and Y  2014   
Omega Ruby, Alpha Sapphire  2015  
Sword and Shield  2019
Brilliant Diamond, Shining Pearl  2021
Rayquaza Card List – (scroll to bottom for gallery view)
Nintendo Promo Cards 2003

Stage – Basic
HP – 100
Speciality – None
Card Number – #39
EX Dragon  2003


Stage – Basic
HP – 100
Speciality – ex
Card Number – 97/97
POP Series 1  2004

Stage – Basic
HP – 80
Speciality – None
Card Number – 3/17
EX Deoxys  2005


Stage – Basic
HP – 80
Speciality – None
Card Number – 22/107

Stage – Basic
HP – 100
Speciality – None
Card Number – 102/107

Stage – Basic
HP – 90
Speciality – None
Card Number – 107/107
EX Emerald  2005


Stage – Basic
HP – 80
Speciality – None
Card Number – 9/106
EX Delta Species 2005


Stage – Basic
HP – 90
Speciality – None
Card Number – 13/113
EX Holon Phantoms  2006

Stage – Basic
HP – 80
Speciality – None
Card Number – 16/110

Stage – Basic
HP – 80
Speciality – None
Card Number – 26/110
EX Dragon Frontiers  2006

Stage – Basic
HP – 110
Speciality – None
Card Number – 97/101
DP Promo Cards  2008 – 2010


Rayquaza C
Stage – Level Up
HP – 120
Level – LV.X
Card Number – DP47
DP Legends Awakened 2008

Stage – Basic
HP – 100
Level – 56
Card Number – 14/146
Platinum Supreme Victors 2009

Rayquaza C
Stage – Basic
HP – 100
Level – 73
Card Number – 8/147
Rayquaza C
Stage – Level Up
HP – 120
Level – LV.X
Card Number – 146/147
HGSS Undaunted  2010

Rayquaza & Deoxys Top
Stage – Legend
HP – 140
Level – Legend
Card Number – 89/90
Rayquaza & Deoxys Bottom
Stage – Legend
HP – 140
Level – Legend
Card Number – 90/90
HGSS Call of Legends  2011

Stage – Basic
HP – 100
Speciality – None
Card Number – 20/95

Stage – Basic
HP – 100
Speciality – None
Card Number – SL10
Black and White Promo Cards 2012 – 2014


Stage – Basic
HP – 170
Speciality – EX
Card Number – BW47
BW Dragons Exalted 2012

Stage – Basic
HP – 170
Speciality – EX
Card Number – 85/124
Stage – Basic
HP – 170
Speciality – EX
Card Number – 123/124
Stage – Basic
HP – 120
Speciality – None
Card Number – 128/124
BW Dragon Vault 2012

Stage – Basic
HP – 120
Speciality – None
Card Number – 11/20
BW Legendary Treasures 2013


Stage – Basic
HP – 120
Speciality – None
Card Number – 93/113
XY Promo Cards 2014 – 2016

Stage – Basic
HP – 120
Speciality – None
Card Number – XY64
Stage – Basic
HP – 170
Speciality – EX
Card Number – XY66
Stage – Basic
HP – 170
Speciality – EX
Card Number – XY69
Stage – Basic
HP – 180
Speciality – EX
Card Number – XY73
Stage – Basic
HP – 120
Speciality – None
Card Number – XY141
XY Roaring Skies 2015

Stage – Basic
HP – 180
Speciality – EX
Card Number – 60/108
Stage – Mega
HP – 230
Speciality – EX
Card Number – 61/108
Stage – Basic
HP – 170
Speciality – EX
Card Number – 75/108
Stage – Mega
HP – 220
Speciality – EX
Card Number – 76/108
Rayquaza Spirit Link
Trainer Item
Card Number – 87/108

Stage – Basic
HP – 170
Speciality – EX
Card Number – 104/108
Stage – Mega
HP – 220
Speciality – EX
Card Number – 105/108
XY Ancient Origins 2015

Stage – Basic
HP – 220
Speciality – EX
Card Number – 98/98
SM Guardians Rising 2017

Stage – Basic
HP – 120
Speciality – None
Card Number – 106/145
SM Shining Legends 2017

Stage – Basic
HP – 120
Speciality – None
Card Number – 56/73
SM Celestial Storm  2018

Stage – Basic
HP – 180
Speciality – GX
Card Number – 109/168

Stage – Basic
HP – 180
Speciality – GX
Card Number – 160/168
Stage – Basic
HP – 180
Speciality – GX
Card Number – 177/168

Stage – Basic
HP – 180
Speciality – GX
Card Number – 177a/168
Sword and Shield Promo Cards 2020 – 2023

Stage – Basic
HP – 130
Speciality – None
Card Number – SWSH029

Stage – Basic
HP – 210
Speciality – V
Form – Rapid Strike
Card Number – SWSH147
SWSH Vivid Voltage 2020

Stage – Basic
HP – 120
Speciality – None
Card Number – 138/185
SWSH Evolving Skies 2021


Stage – Basic
HP – 210
Speciality – V
Form – Rapid Strike
Card Number – 110/203

Stage – VMAX
HP – 320
Speciality – VMAX
Form Rapid Strike
Card Number – 111/203
Stage – Basic
HP – 210
Speciality – V
Form – Rapid Strike
Card Number – 193/203
Stage – Basic
HP – 210
Speciality – V
Form – Rapid Strike
Card Number – 194/203
Stage – VMAX
HP – 320
Speciality – VMAX
Form – Rapid Strike
Card Number – 217/203

Stage – VMAX
HP – 210
Speciality – VMAX
Form – Rapid Strike
Card Number – 218/203
SWSH Celebrations 2021


Stage – Mega
HP – 220
Speciality – EX
Card Number – 76/108
SWSH Silver Tempest 2022

Stage – VMAX
HP – 320
Speciality – VMAX
Form – Rapid Strike
Card Number – TG20/TG30
Stage – VMAX
HP – 320
Speciality – VMAX
Form – Rapid Strike
Card Number – TG29/TG30
SWSH Crown Zenith 2023

Stage – Basic
HP – 210
Speciality – V
Form – Rapid Strike
Card Number – 100/159
Stage – VMAX
HP – 320
Speciality – VMAX
Form – Rapid Strike
Card Number – 101/159
Stage – VMAX
HP – 320
Speciality – VMAX
Form – Rapid Strike
Card Number – 102/159
Gallery