Flapple Pokédex Information
Flapple is a Dragon / Grass type Pokémon that first appeared in the games Pokémon Sword and Shield which were released Worldwide in November 2019. It evolves from Applin.
Flapple is a small green Pokémon with a yellow underbelly that resembles a worm and an apple. In regular form it has taken over an apple and used parts of it as its form. Its two large, yellow eyes are embedded in the apple and the worm. It flutters around while seeking an opening in the opponent's guard, then attacks by spitting acidic liquid strong enough to melt metal.
It can evolve to Gigantamax form with the Dynamax band. In this form, the worm is no longer visible, it is much bigger and heavier and resembles a large toffee apple. Under the influence of Gigantamax energy, it produces much more sweet nectar, and its shape has changed to resemble a giant apple.
Contents
Flapple Pokédex Facts
Evolutions
Flapple Pokédex Entries
TCG Cards
Flapple Pokédex Facts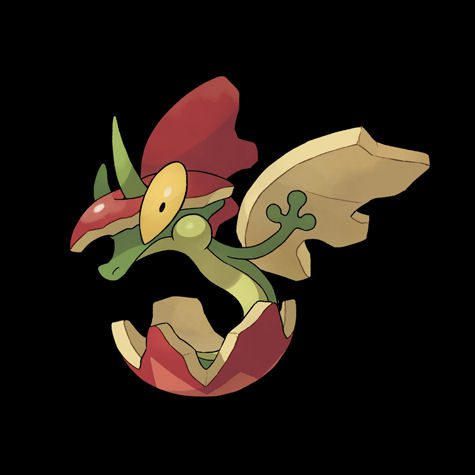 English Name – Flapple
Japanese Name – Appuryū
First Appearance – 2019 (Pokémon Sword and Shield)
Generation – VIII
Based on – Apple / Worm
Pokédex Number – 0841
Regular Form
Category – Apple Wing
Height – 0.3 m
Weight – 1 kg
Gender – Male or Female
Primary Type – Dragon
Secondary Type – Grass
Weakness – Bug, Dragon, Fairy, Flying, Ice, Poison
Special Ability – Gluttony, Ripen
Gigantamax Form
Category – Apple Wing
Height – >24 m
Weight – Unknown
Gender – Male or Female
Primary Type – Dragon
Secondary Type – Grass
Weakness – Bug, Dragon, Fairy, Flying, Ice, Poison
Special Ability – Gluttony, Ripen
Flapple Evolutions
Evolution – Applin evolves to Flapple (with a Tart Apple)
| | | |
| --- | --- | --- |
| Applin | with Tart Apple | Flapple |
Flapple Pokédex Entries / Games
Pokémon Sword and Shield 2019
Scarlet and Violet 2022
Flapple Card List – (scroll to bottom for gallery view)
Sword and Shield Promo Cards 2020 – 2023


Stage – 1
HP – 80
Speciality – None
Card Number – SWSH022
Stage – 1
HP – 80
Speciality – None
Card Number – SWSH189
SWSH Rebel Clash 2020


Stage – 1
HP – 80
Speciality – None
Card Number – 022/192
SWSH Shining Fates 2021

Stage – 1
HP – 80
Speciality – None
Card Number – SV013/SV122
SWSH Battle Styles 2021

Stage – Basic
HP – 190
Speciality – V
Card Number – 018/163

Stage – Basic
HP – 190
Speciality – V
Card Number – 143/163

Stage – VMAX
HP – 320
Speciality – VMAX
Card Number – 019/163
Stage – VMAX
HP – 320
Speciality – VMAX
Card Number – 164/163
SWSH Evolving Skies 2021


Stage – 1
HP- 80
Speciality – None
Card Number – 120/203
SWSH Astral Radiance 2022

Stage – 1
HP- 80
Speciality – None
Card Number – TG02/TG30
Gallery