Granbull Pokédex Information
Granbull is a Fairy type Pokémon that first appeared in the games Pokémon Gold and Silver which were released in Japan in November 1999. It evolves from Snubbull.
It is a two-legged character that resembles a bulldog. It is predominantly pink with black markings around its wrists and neck. Its facial features are dominated with two large fangs that curve upwards from its lower jaw. Despite its powerful jaws, it doesn't care for disputes, so it rarely has a chance to display their might.
Contents
Granbull Pokédex Facts
Evolutions
Granbull Pokédex Entries
TCG Cards
Granbull Pokédex Facts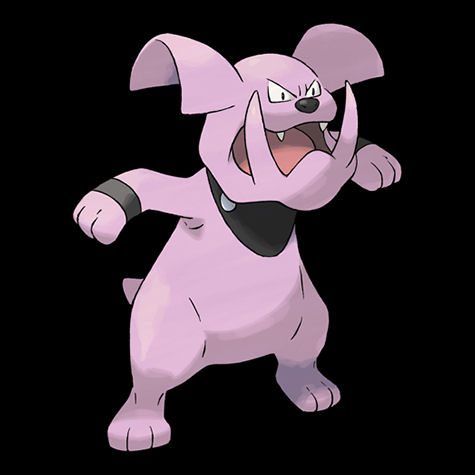 English Name – Granbull
Japanese Name – Guranburu
First Appearance – 1999 (Pokémon Gold and Silver)
Based on – Bulldog
Generation – II
Pokédex Number – 0210
Category – Fairy
Height – 1.4 m
Weight – 48.7 kg
Gender – Male, Female
Type –  Fairy
Weakness – Poison, Steel
Special Abilities – Intimidate, Quick Feet
Granbull Evolutions
Evolution – Snubbull evolves to Granbull (level 23).
| | | |
| --- | --- | --- |
| Snubbull | Level 23 | Granbull |
Granbull Pokédex Entries / Games
Gold and Silver  1999
Pokémon Crystal 2000
Pokémon Stadium 2 2000
Ruby and Sapphire  2002
Pokémon Emerald  2004
FireRed and LeafGreen  2005
Diamond and Pearl  2006
Platinum  2008
HeartGold and SoulSilver  2009
Pokémon Black and White  2011
Black 2 and White 2  2012 
Pokémon X and Y  2013
Omega Ruby, Alpha Sapphire  2015  
Sun and Moon  2016
Ultra Sun and Ultra Moon  2017
Brilliant Diamond, Shining Pearl  2021
Granbull Card List – (scroll to bottom for gallery view)
Neo Genesis 2000


Stage – 1
HP –  70
Speciality – None
Card Number – 37/111
Skyridge 2003

Stage – 1
HP –  80
Speciality – None
Card Number – 61/144
EX Unseen Forces 2005


Stage – 1
HP –  70
Speciality – None
Card Number – 39/115
DP Great Encounters 2008

Stage – 1
HP – 90
Level – 34
Card Number – 39/106 
HeartGold SoulSilver Base 2010


Stage – 1
HP – 90
Speciality – None
Card Number – 22/123
HGSS Call of Legends 2011

Stage – 1
HP – 90
Speciality – None
Card Number – 26/95
Kalos Starter Set 2013


Stage – 1
HP – 100
Speciality – None
Card Number – 23/39
XY BREAKThrough 2015

Stage – 1
HP – 120
Speciality – None
Card Number – 99/162
Sun and Moon Base Set 2017


Stage – 1
HP – 110
Speciality – None
Card Number – 91/149
SM Lost Thunder 2018


Stage – 1
HP – 90
Speciality – None
Card Number – 138/214
SWSH Darkness Ablaze 2020


Stage – 1
HP –  130
Speciality – None
Card Number – 071/189
SWSH Fusion Strike 2021

Stage – 1
HP –  120
Speciality – None
Card Number – 116/264
SWSH Brilliant Stars 2022


Stage – 1
HP –  210
Speciality – V
Card Number – 057/172
Stage – 1
HP –  210
Speciality – V
Card Number – 159/172
SV Obsidian Flames 2023

Stage – 1
HP – 130
Speciality – None
Card Numbers – 088/197
Gallery