Greedent Pokédex Information
Greedent is a Normal / Fighting type Pokémon that first appeared in the games Pokémon Sword and Shield which released in November 2019. It evolves from Skwovet.
Greedent is a two-legged character that is based on a squirrel. Its body is light brown with a darker brown bib front. It has dark brown bushy fur around its mouth and a large bushy tail that is light brown on top and darker brown underneath. It stashes berries in its tail – so many berries that they fall out constantly. But this Pokémon is a bit slow-witted, so it doesn't notice the loss.
Contents
Greedent Pokédex Facts
Evolutions
Greedent Pokédex Entries
TCG Cards
Greedent Pokédex Facts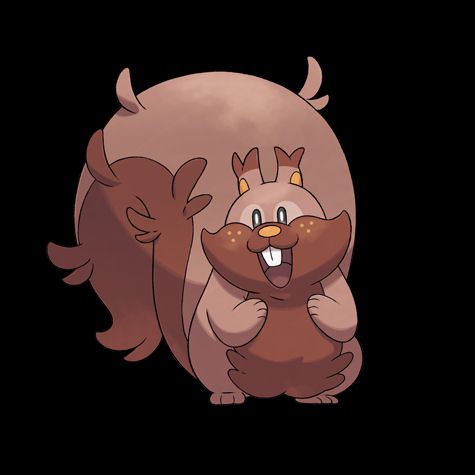 English Name – Greedent
Japanese Name – Yokubarisu
First Appearance – 2019 (Pokémon Sword and Shield)
Based on – Squirrel
Generation – VIII
Pokédex Number – 0820
Category – Greedy
Height – 0.6 m
Weight – 6 kg
Gender – Male or Female
Type – Normal
Weakness – Fighting
Special Ability – Cheek Pouch
Greedent Evolution
Evolution – Skwovet evolves to Greedent (level 24)
| | | |
| --- | --- | --- |
| Skwovet | Level 24 | Greedent |
Greedent Pokédex Entries / Games
Pokémon Sword and Shield 2019
Scarlet and Violet  2022
Greedent Card List – (scroll to bottom for gallery view)
SWSH Rebel Clash 2020


Stage – 1
HP – 120
Speciality – None
Card Numbers – 152/192
SWSH Darkness Ablaze 2020

Stage – 1
HP – 120
Speciality – None
Card Numbers – 153/189
SWSH Shining Fates 2021


Stage – 1
HP – 120
Speciality – None
Card Numbers – SV100/SV122 
Stage – Basic
HP – 200
Speciality – V
Card Numbers – 053/072
SWSH Chilling Reign 2021

Stage – 1
HP – 120
Speciality – None
Card Numbers – 128/198 
SWSH Fusion Strike 2021


Stage – Basic
HP – 210
Speciality – V
Card Number – 217/264

Stage – Basic
HP – 210
Speciality – V
Card Number – 256/264

Stage – Basic
HP – 210
Speciality – V
Card Number – 257/264

Stage – VMAX
HP – 210
Speciality – VMAX
Card Number – 218/264

Stage – VMAX
HP – 210
Speciality – VMAX
Card Number – 272/264
SWSH Lost Origin 2022

Stage – 1
HP – 130
Speciality – None
Card Number – 151/196
SWSH Crown Zenith 2023


Stage – Basic
HP – 210
Speciality – V
Card Number – 120/159
Scarlet and Violet Base Set 2023

Stage – 1
HP –  120
Speciality – None
Card Number – 152/198
SV Obsidian Flames 2023

Stage – 1
HP –  260
Speciality – ex
Card Number – 179/197
Gallery