What is the Heavy Hitters Premium Collection?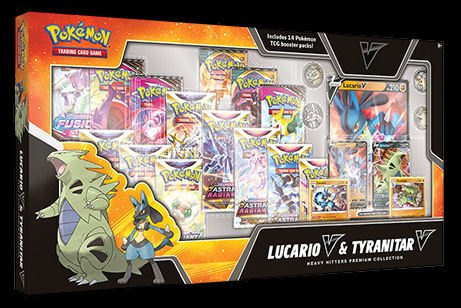 The Pokémon Heavy Hitters Premium Collection is a special collection set featuring Lucario V and Tyranitar V. It released on 1st September 2022 exclusively at Sam's Club stores. 
The box artwork is predominantly orange and black and features Lucario and Tyranitar in the bottom left corner.
The dimensions of the product have not been released but it appears to be a fairly large box. The price has also yet to be released but from the contents it is likely to be around $75.
What is in the Heavy Hitters Premium Collection Box?
The contents of the boxes have been released:
4 foil cards featuring Lucario V, Tyranitar V, Lucario, and Tyranitar
1 oversize foil card featuring Lucario V
14 Pokémon TCG booster packs
4 large metallic coins
A code card usable in either the Pokémon TCG Online or Pokémon TCG Live
It is believed that the foil cards are all reprints:

Lucario V 146/264 from Fusion Strike; Tyranitar V 156/264 from Fusion Strike; Lucario 079/172 from Brilliant Stars; Tyranitar 068/189 from Astral Radiance.