Incineroar Pokédex Information
Incineroar first appeared in the games Pokémon Sun and Moon which released Worldwide on November 18, 2016. 
This Pokémon is a two-legged character that is based on a Tiger and a Wrestler. Its head, arms, legs and tail are red with black markings. Its torso is grey with black markings resembling a breastplate. Around its waist is belt of fiery flames that resembles a wrestling championship belt. Although it's rough mannered and egotistical, it finds beating down unworthy opponents boring. It gets motivated for stronger opponents.
Contents
Incineroar Pokédex Facts
Evolutions
Incineroar Pokédex Entries
TCG Cards
Incineroar Pokédex Facts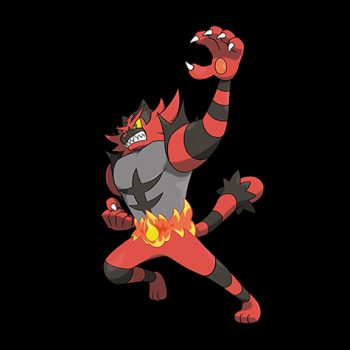 English Name – Incineroar
Japanese Name – Gaogaen
First Appearance – 2016 (Sun & Moon)
Based on – Tiger / Wrestler
Generation – VII
Pokédex Number – 727
Category – Heel
Height – 1.8 m
Weight –  83 kg
Gender – Male, Female
Primary Type – Fire
Secondary Type – Dark
Weakness – Fighting, Ground, Rock, Water
Special Ability – Blaze
Incineroar Evolutions
Evolution – Litten evolves to Torracat (level 17); evolves to Incineroar (level 34)
| | | |
| --- | --- | --- |
| | | |
|   | | |
Incineroar Pokédex Entries / Games
Sun & Moon 2016
Ultra Sun and Ultra Moon 2018
Sword and Shield 2019 
Incineroar Card List – (scroll to bottom for gallery view)
Sun and Moon Promo Cards 2017 – 2019


Stage – 2
HP – 250
Speciality – GX
Card Numbers – SM38
Sun and Moon Base Set 2017 


Stage – 2
HP – 160
Speciality – None
Card Numbers – 26/149

Stage – 2
HP – 250
Speciality – GX
Card Numbers – 27/149
SM Shining Legends 2017

Stage – 2
HP – 170
Speciality – None
Card Numbers – 17/73
SM Team Up 2019


Stage – 2
HP – 250
Speciality – GX
Card Numbers – 97/181
Stage – 2
HP – 250
Speciality – GX
Card Numbers – 167/181

Stage – 2
HP – 250
Speciality – GX
Card Numbers – 188/181
SM Unbroken Bonds 2019

Stage – 2
HP – 160
Speciality – None
Card Numbers – 29/214
SWSH Champion's Path 2020


Stage – Basic
HP – 220
Speciality – V
Card Numbers – 008/073
SWSH Silver Tempest 2022

Stage – 2
HP – 170
Speciality – None
Card Numbers – 032/195
Gallery