Lumineon Pokédex Information
Lumineon is a Water type Pokémon that first appeared in the game Pokémon Diamond and Pearl which released in Japan on September 28th 2006. It evolves from Finneon.
This Pokémon is a large dark blue fish that has light blue markings. Deep down at the bottom of the ocean, prey is scarce. Lumineon get into fierce disputes with Lanturn over food.
Contents
Lumineon Pokédex Facts
Evolutions
Lumineon Pokédex Entries
TCG Cards
Lumineon Pokédex Facts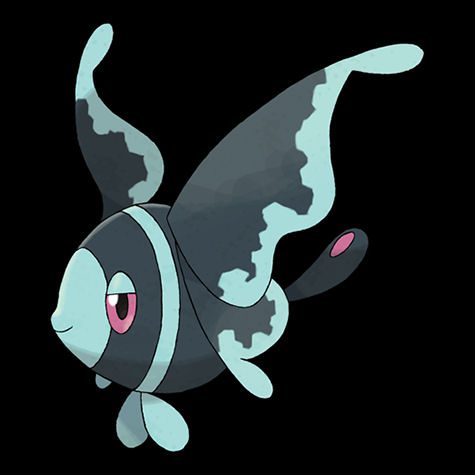 English Name – Lumineon
Japanese Name – Neoranto
First Appearance – 2006 (Pokémon Diamond and Pearl)
Generation – IV
Based on – Fish
Pokédex Number – 0457
Category – Neon
Height – 1.2 m
Weight – 24 kg
Gender – Male, Female
Type – Water
Weakness – Electric, Grass
Special Ability – Storm Drain, Swift Swim
Lumineon Evolutions
Evolution – Finneon evolves to Lumineon (level 31)
| | | |
| --- | --- | --- |
| Finneon | Level 31 | Lumineon |
Lumineon Pokédex Entries / Games
Diamond and Pearl  2006
Platinum  2008
HeartGold and SoulSilver  2009
Pokémon Black and White  2011
Black 2 and White 2  2012
Pokémon X and Y  2014   
Omega Ruby, Alpha Sapphire  2015  
Sun and Moon  2016
Ultra Sun, Ultra Moon  2017
Brilliant Diamond, Shining Pearl  2021
Legends Arceus  2022
Lumineon Card List – (scroll to bottom for gallery view)
DP Mysterious Treasures 2007


Stage – 1
HP – 80
Level – 34
Card Number – 11/123
DP Stormfront 2008


Stage – 1
HP – 80
Level – 38
Card Number – 4/100
XY Phantom Forces 2014

Stage – 1
HP – 80
Speciality – None
Card Number – 19/119
SM Unified Minds 2019

Stage – 1
HP – 90
Speciality – None
Card Number – 40/236
Sword and Shield Promo Cards 2020-2022


Stage – Basic
HP – 170
Speciality – V
Card Number – SWSH250
SWSH Brilliant Stars 2022


Stage – Basic
HP – 170
Speciality – V
Card Number – 040/172

Stage – Basic
HP – 170
Speciality – V
Card Number – 155/172

Stage – Basic
HP – 170
Speciality – V
Card Number – 156/172
SWSH Lost Origin 2022


Stage – Basic
HP – 90
Speciality – None
Card Number – 041/196
SWSH Crown Zenith 2023


Stage – Basic
HP – 170
Speciality – V
Card Number – GG39/GG70
Gallery