Oranguru Pokédex Information
Oranguru is a Normal / Psychic type Pokémon that first appeared in the games Pokémon Sun and Moon which released in November 2016. It does not evolve.
This Pokémon is a two-legged character that is based on an orangutan. Its fur is predominantly white but it has a mass of purple fur that forms a cape over its back. Its hands, feet and nose are grey and it holds a bunch of green leaves which it uses as a fan. People used to mistake Oranguru for a human when they saw it issue command after command to the other Pokémon of the forest.
Contents
Oranguru Pokédex Facts
Evolutions
Oranguru Pokédex Entries
TCG Cards
Oranguru Pokédex Facts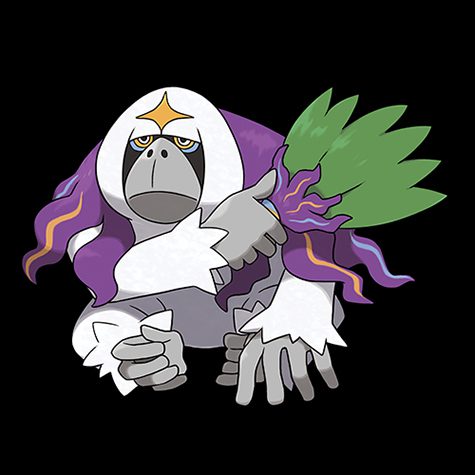 English Name – Oranguru
Japanese Name – Yareyūtan
First Appearance – 2016 (Sun & Moon)
Generation – VII
Based on – Orangutan
Pokédex Number – 765
Category – Sage
Height – 1.5 m
Weight – 76 kg
Gender – Male, Female
Primary Type – Normal
Secondary Type – Psychic
Weakness – Bug, Dark
Special Ability – Inner Focus, Telepathy
Oranguru Evolutions
Evolution – Oranguru does not evolve
Oranguru Pokédex Entries / Games
Sun & Moon 2016
Ultra Sun and Ultra Moon 2018
Sword & Shield 2019
Scarlet & Violet 2022
Oranguru Card List – (scroll to bottom for gallery view)
Sun and Moon Promo Cards – 2017 – 2019


Stage – Basic
HP – 120
Speciality – None
Card Numbers – SM13
Sun and Moon Base Set 2017


Stage – Basic
HP – 120
Speciality – None
Card Numbers – 113/149
SM Crimson Invasion 2017


Stage – Basic
HP – 110
Speciality – None
Card Number – 48/111
SM Ultra Prism 2018


Stage – Basic
HP – 120
Speciality – None
Card Number – 114/156
SM Unified Minds 2019


Stage – Basic
HP – 120
Speciality – None
Card Number – 182/236
SM Hidden Fates 2019


Stage – Basic
HP – 120
Speciality – None
Card Number – SV44/SV94
Sword and Shield Base Set 2020


Stage – Basic
HP – 120
Speciality – None
Card Number – 148/202
SWSH Vivid Voltage 2020


Stage – Basic
HP – 120
Speciality – None
Card Number – 199/185
SWSH Shining Fates 2021


Stage – Basic
HP – 120
Speciality – None
Card Number – SV98/SV122
SWSH Astral Radiance 2022

Stage – Basic
HP – 210
Speciality – V
Card Number – 133/189

Stage – Basic
HP – 210
Speciality – V
Card Number – 179/189
SWSH Crown Zenith 2023


Stage – Basic
HP – 110
Speciality – None
Card Number – 119/159
SV Paldea Evolved 2023


Stage – Basic
HP – 120
Speciality – None
Card Number – 094/193
Gallery