Perrserker Pokédex Information
Perrserker first appeared in the games Pokémon Sword and Shield which released in November 2019. 
This Pokémon is a two legged character that is based on a Cat and a Beserker (Norse Warrior). It has a light brown body with dark brown lower legs and tip of tail. It has a large head with a shaggy grey beard. Its head resembles a stereotypical Viking helmet. What appears to be an iron helmet is actually hardened hair. This Pokémon lives for the thrill of battle.
Contents
Perrserker Pokédex Facts
Evolutions
Perrserker Pokédex Entries
TCG Cards
Perrserker Pokédex Facts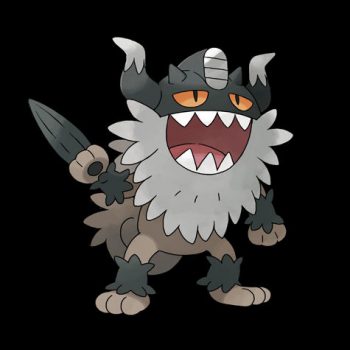 English Name – Perrserker
Japanese Name – Nyaikingu
First Appearance – 2020 (Pokémon Sword and Shield)
Generation – VIII
Pokédex Number – 863
Based on – Cat / Beserker
Height – 0.8 m
Weight – 28 kg
Gender – Male or Female 
Type – Steel
Weakness – Fighting, Fire, Ground
Special Ability – Battle Armor, Tough Claws
Perrserker Evolutions
Evolution – Galarian Meowth evolves to Perrserker (level 28)
| | | |
| --- | --- | --- |
| Galarian Meowth | Level 28 | Perrserker |
Perrserker Pokédex Entries / Games
Pokémon Sword and Shield 2020
Perrserker Card List – (scroll to bottom for gallery view)
Sword and Shield Promo Cards 2020 – 

Stage – 1
HP – 120
Speciality – None
Card Number – SWSH008
Sword and Shield Base Set 2020

Stage – 1
HP – 120
Speciality – None
Card Numbers – 128/202
SWSH Rebel Clash 2020


Stage – 1
HP – 120
Speciality – None
Card Number – 127/192

Stage – 1
HP – 120
Speciality – None
Card Numbers – 205/192
SWSH Vivid Voltage 2020


Stage – 1
HP – 120
Speciality – none
Card Number – 113/185
SWSH Shining Fates 2021


Stage – 1
HP – 120
Speciality – none
Card Number – SV087/SV122
SWSH Fusion Strike 2021


Stage – 1
HP – 120
Speciality – none
Card Number – 181/264
SWSH Lost Origin 2022


Stage – Basic
HP – 200
Speciality – V
Card Number – 129/196
Stage – Basic
HP – 200
Speciality – V
Card Number – 183/196
Stage – Basic
HP – 200
Speciality – V
Card Number – 184/196
SWSH Crown Zenith 2023


Stage – 1
HP – 120
Speciality – None
Card Number – 085/159
Gallery