Obstagoon Pokédex Information
Obstagoon first appeared in the games Pokémon Sword and Shield which released in Worldwide in November 2020. 
Obstagoon is a large two-legged character that is based on a badger. It is predominantly black and white but has tufts of grey fur on its shoulders, wrists and ankles. Its voice is staggering in volume. Obstagoon has a tendency to take on a threatening posture and shout—this move is known as Obstruct.
Contents
Obstagoon Pokédex Facts
Evolutions
Obstagoon Pokédex Entries
TCG Cards
Obstagoon Pokédex Facts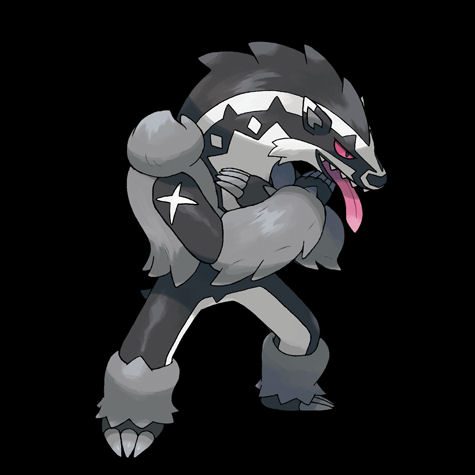 English Name – Obstagoon
Japanese Name – Tachifusaguma
First Appearance – 2020 (Pokémon Sword and Shield)
Generation – VIII
Based on – Badger
Pokédex Number – 0862
Height – 1.6 m
Weight – 46 kg
Gender – Male or Female 
Primary Type – Dark
Secondary Type – Normal
Weakness – Bug, Fairy, Fighting
Special Ability – Guts, Reckless

Obstagoon Evolutions
Evolution – Galarian Zigzagoon evolves to Galarian Linoone (Level 20); evolves to Obstagoon (Level 35)
| | | |
| --- | --- | --- |
| Galarian Zigzagoon | Level 20 | Galarian Linoone |
| Level 35 | Obstagoon | |
Obstagoon Pokédex Entries / Games
Pokémon Sword and Shield  2019
Obstagoon Card List – (scroll to bottom for gallery view)
Sword and Shield Promo Cards 2020 – 2022 

Galarian Obstagoon
Stage – 2
HP – 160
Speciality – None
Card Number – SWSH059
Sword and Shield Base Set 2020


Galarian Obstagoon
Stage – 2
HP – 160
Speciality – None
Card Numbers – 119/202
SWSH Champion's Path 2020

Galarian Obstagoon
Stage – 2
HP – 170
Speciality – None
Card Numbers – 037/073
SWSH Vivid Voltage 2020


Galarian Obstagoon
Stage – 2
HP – 160
Speciality – none
Card Number – 198/185
SWSH Shining Fates 2021


Galarian Obstagoon
Stage – 2
HP – 160
Speciality – none
Card Number – SV080/SV122
SWSH Fusion Strike 2021


Stage – 2
HP – 170
Speciality – none
Form – Galarian
Card Number – 161/264
SWSH Astral Radiance 2022


Stage – 2
HP – 170
Speciality – none
Form – Galarian
Card Number – TG10/TG30
Gallery