Linoone Pokédex Information
Linoone first appeared in the game Pokémon Ruby and Sapphire which released in Japan on November 21st 2002. 
Linoone is a small four-legged character that is based on a badger. In its regular form it is fawn coloured with brown stripes. Its fur is strong and supple. Shaving brushes made with shed Linoone hairs are highly prized.
Galarian form Linoone is black with white stripes. It uses its long tongue to taunt opponents. Once the opposition is enraged, this Pokémon hurls itself at the opponent, tackling them forcefully.
Contents
Linoone Pokédex Facts
Evolutions
Linoone Pokédex Entries
TCG Cards
Linoone Pokédex Facts
English Name – Linoone
Japanese Name – Massuguma
First Appearance – 2003 (Pokémon Ruby and Sapphire)
Based on – Badger
Generation – III
Pokédex Number – 0264
Regular Form
Category – Rushing
Height – 0.5 m
Weight – 32.5 kg
Gender – Male, Female
Type –  Normal
Weakness – Fighting
Special Abilities – Gluttony, Pick Up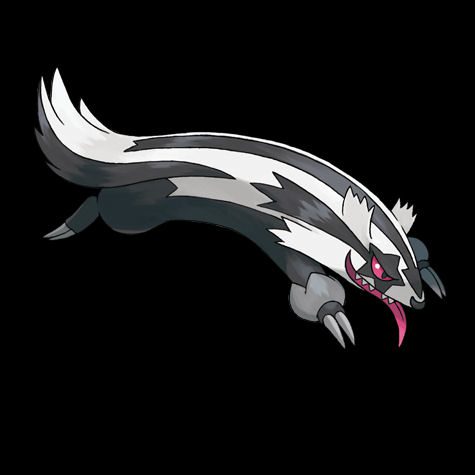 Galarian Form
Category – Rushing
Height – 0.5 m
Weight – 32.5 kg
Gender – Male, Female
Primary Type – Dark
Secondary Type –  Normal
Weakness – Bug, Fairy, Fighting
Special Abilities – Gluttony, Pick Up
Linoone Evolutions
Regular Form Evolution – Zigzagoon evolves to Linoone (Level 20)
| | | |
| --- | --- | --- |
| Zigzagoon | Level 20 | Linoone |
Galarian Form Evolution – Zigzagoon evolves to Linoone (Level 20); evolves to Obstagoon (Level 35)
| | | |
| --- | --- | --- |
| Galarian Zigzagoon | Level 20 | Galarian Linoone |
| Level 35 | Obstagoon | |
Linoone Pokédex Entries / Games
Ruby and Sapphire  2002
Pokémon Emerald  2004
FireRed and LeafGreen  2005
Diamond and Pearl  2006
Platinum  2008
HeartGold and SoulSilver  2009
Pokémon Black and White  2011
Black 2 and White 2  2012
Pokémon X and Y  2014   
Omega Ruby, Alpha Sapphire  2015  
Sword and Shield  2019
Brilliant Diamond, Shining Pearl  2021
Linoone Card List – (scroll to bottom for gallery view)
EX Ruby and Sapphire 2003

Stage – 1
HP –  70
Speciality – None
Card Number – 38/109
EX Sandstorm 2003

Stage – 1
HP –  70
Speciality – None
Card Number – 44/100
EX Emerald 2005

Stage – 1
HP –  70
Speciality – None
Card Number – 34/106
DP Great Encounters 2008

Stage – 1
HP –  80
Level – 24
Card Number – 43/106
XY Primal Clash 2015

Stage – 1
HP –  90
Speciality – None
Card Number – 112/160
Sword and Shield Base Set 2020

Stage – 1
HP –  100
Speciality – None
Form – Galarian
Card Number – 118/202
SWSH Champion's Path 2020

Stage – 1
HP –  100
Speciality – None
Form – Galarian
Card Number – 036/073
SWSH Shining Fates 2021

Stage – 1
HP –  100
Speciality – None
Form – Galarian
Card Number – SV079/SV122
SWSH Fusion Strike 2021

Stage – 1
HP –  90
Speciality – None
Form – Galarian
Card Number – 160/264
Gallery