Sandaconda Pokédex Information
Sandaconda is a Ground type Pokémon that first appeared in the games Pokémon Sword and Shield which released Worldwide on November 15, 2019. It evolves from Silicobra.
Sandaconda is a large snake, based on an anaconda, that has a cone-shaped body that is segmented and coloured cream and brown. Its head is triangular, with sharp fangs and green eyes. It has a distinctive brown pattern on its back that resembles a series of diamond shapes. It will expand its body as much as it can and then contract itself, blasting out sand with enough force to wash away a dump truck.
In Gigantamax form it is much larger and heavier and it adopts an upright form that resembles a tornado. Its sand pouch has grown to tremendous proportions. More than 1,000,000 tons of sand now swirl around its body.
Contents
Sandaconda Pokédex Facts
Evolutions
Sandaconda Pokédex Entries
TCG Cards
Sandaconda Pokédex Facts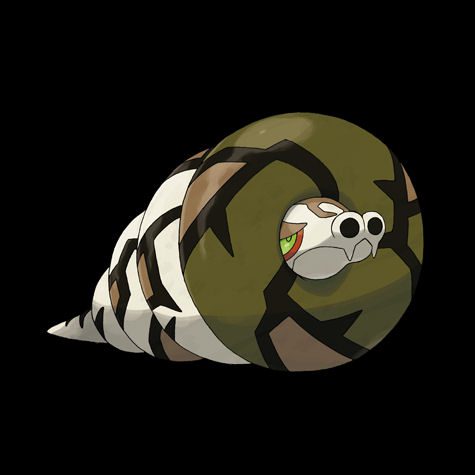 English Name – Sandaconda
Japanese Name – Sadaija 
First Appearance – 2020 (Pokémon Sword and Shield)
Generation – VIII
Pokédex Number – 0844
Based on – Snake / Anaconda
Regular Form
Category – Sand Snake
Height – 3.8 m
Weight – 65.5 kg
Gender – Male or Female
Type – Ground
Weakness – Grass, Ice, Water
Special Ability – Shed Skin, Sand Spit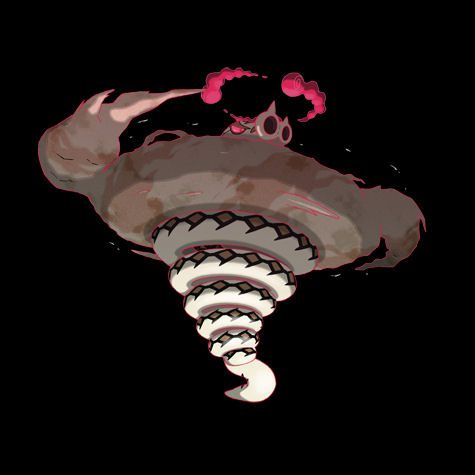 Gigantamax Form
Category – Sand Snake
Height – >22 m
Weight – Unknown
Gender – Male or Female
Type – Ground
Weakness – Grass, Ice, Water
Special Ability – Shed Skin, Sand Spit
Sandaconda Evolutions
Evolution – Silicobra evolves to Sandaconda (level 36)
| | | |
| --- | --- | --- |
| Silicobra | Level 36 | Sandaconda |
Sandaconda Pokédex Entries / Games
Pokémon Sword and Shield 2019
Scarlet and Violet 2022
Sandaconda Card List – (scroll to bottom for gallery view)
Sword and Shield Base Set 2020

Stage – 1
HP – 140
Speciality – None
Card Numbers – 109/202

Stage – 1
HP – 130
Speciality – None
Card Numbers – 110/202
SWSH Rebel Clash 2020


Stage – Basic
HP – 220
Speciality – V
Card Numbers – 108/192

Stage – Basic
HP – 220
Speciality – V
Card Numbers – 184/192
SWSH Shining Fates 2021


Stage – Basic
HP – 140
Speciality – None
Card Number – SV071/SV122
SWSH Battle Styles 2021


Stage – 1
HP – 130
Speciality – None
Card Numbers – 082/163
SWSH Chilling Reign 2021

Stage – Basic
HP – 220
Speciality – V
Card Number – 089/198

Stage – Basic
HP – 220
Speciality – V
Card Number – 175/198
Stage – VMAX
HP – 320
Speciality – VMAX
Card Number – 090/198

Stage – VMAX
HP – 320
Speciality – VMAX
Card Number – 206/198
SWSH Fusion Strike 2021


Stage -Basic
HP – 220
Speciality – V
Card Number – 252/264
Scarlet and Violet Base Set 2023

Stage – 1
HP – 140
Speciality – None
Card Number – 120/198
McDonald's Collection 2023

Stage – Basic
HP –  140
Speciality – None
Card Number – 010/015
Gallery