Swablu Pokédex Information
Swablu is a Normal / Flying type Pokémon that first appeared in the game Pokémon Ruby and Sapphire which released in Japan on November 21st 2002. It evolves to Altaria. 
Swablu is a blue bird with wings that resemble white fluffy clouds. Its tail is made up of two feathers and it has two long ribbon-like projections from the top of its head. Its cottony wings are full of air, making them light and fluffy to the touch. Swablu takes diligent care of its wings. 
Contents
Swablu Pokédex Facts
Evolutions
Swablu Pokédex Entries
TCG Cards
Swablu Pokédex Facts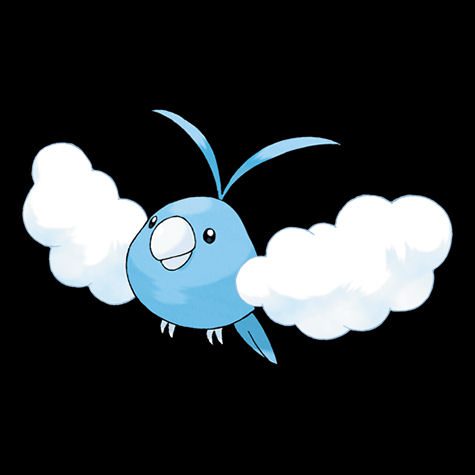 English Name – Swablu
Japanese Name – Chirutto
First Appearance – 2002 (Pokémon Ruby and Sapphire)
Based on – Bird
Generation – III
Pokédex Number – 333
Category – Cotton Bird
Height – 0.4 m
Weight – 1.2 kg
Gender – Male, Female
Primary Type – Normal
Secondary Type – Flying
Weaknesses – Electric, Ice, Rock
Special Abilities – Natural Cure
Swablu Evolutions
Evolution – Swablu evolves to Altaria (level 35)
Swablu Pokédex Entries / Games
Ruby and Sapphire  2002
FireRed, LeafGreen  2004
Pokémon Emerald  2004
Diamond and Pearl  2006
Platinum  2008
HeartGold and SoulSilver  2009
Pokémon Black and White  2011
Black 2 and White 2  2012
Pokémon X and Y  2014   
Omega Ruby, Alpha Sapphire  2015 
Sword and Shield 2019
Brilliant Diamond, Shining Pearl  2021
Scarlet and Violet  2022
Swablu Card List – (scroll to bottom for gallery view)
EX Dragon 2003

Stage – Basic
HP – 40
Speciality – None
Card Number – 75/97
EX Deoxys 2005

Stage – Basic
HP – 40
Speciality – None
Card Number – 79/107
EX Emerald 2005


Stage – Basic
HP – 40
Speciality – None
Card Number – 67/106
EX Dragon Frontiers 2006

Stage – Basic
HP – 40
Speciality – None
Card Number – 65/101
EX Power Keepers  2007


Stage – Basic
HP – 40
Speciality – None
Card Number – 66/108
DP Great Encounters 2008

Stage – Basic
HP – 40
Level – 7
Card Number – 86/106
Platinum Base Set 2009


Stage – Basic
HP – 40
Level – 11
Card Number – 97/127
Stage – Basic
HP – 50
Level – 16
Card Number – SH5
HGSS Triumphant 2010

Stage – Basic
HP – 40
Speciality – None
Card Number – 78/102
BW Dragons Exalted 2012

Stage – Basic
HP – 40
Speciality – None
Card Number – 104/124

Stage – Basic
HP – 40
Speciality – None
Card Number – 105/124
BW Legendary Treasures 2013

Stage – Basic
HP – 40
Speciality – None
Card Number – 103/113
XY Roaring Skies 2015

Stage – Basic
HP – 40
Speciality – None
Card Number -73/108
XY Generations 2016

Stage – Basic
HP – 40
Speciality – None
Card Number – RC23/RC32
XY BREAKThrough 2015


Stage – Basic
HP – 40
Speciality – None
Card Number – 124/162
SM Crimson Invasion 2017

Stage – Basic
HP – 50
Speciality – None
Card Number – 79/111
SM Dragon Majesty 2018

Stage – Basic
HP – 50
Speciality – None
Card Number – 56/70

Stage – Basic
HP – 50
Speciality – None
Card Number – 57/70
SM Hidden Fates 2019

Stage – Basic
HP – 50
Speciality – None
Card Number – SV42/SV94
SWSH Champion's Path 2020

Stage – Basic
HP – 50
Speciality – None
Card Number – 048/073
SWSH Evolving Skies 2021

Stage – Basic
HP – 50
Speciality – None
Card Number – 132/203
SWSH Silver Tempest 2022


Stage – Basic
HP – 50
Speciality – None
Card Number – 142/195
SWSH Crown Zenith 2023

Stage – Basic
HP – 50
Speciality – None
Card Number – GG27/GG70
SV Obsidian Flames 2023

Stage – Basic
HP – 50
Speciality -None
Card Number – 169/197
SV Paradox Rift 2023

Stage – Basic
HP – 50
Speciality -None
Card Number – 152/182

Stage – Basic
HP – 50
Speciality -None
Card Number – 213/182
Gallery