Tapu Koko Pokédex Information
Tapu Koko is an Electric / Poison type Pokémon that first appeared in the Pokémon Sun and Moon which released in November 2016. It does not evolve.
Tapu Koko is a Legendary bird Pokémon that is based on a rooster and known as one of the Guardian Deities. Its head, arms and upper body are black whilst its lower body is comprised of orange projections that resemble feathers. In each hand it holds half of a mask. The mask is predominantly yellow with a black and orange beak and black, white and orange markings. Although it's called a guardian deity, if a person or Pokémon puts it in a bad mood, it will become a malevolent deity and attack.
Contents
Tapu Koko Pokédex Facts
Evolutions
Tapu Koko Pokédex Entries
TCG Cards
Tapu Koko Facts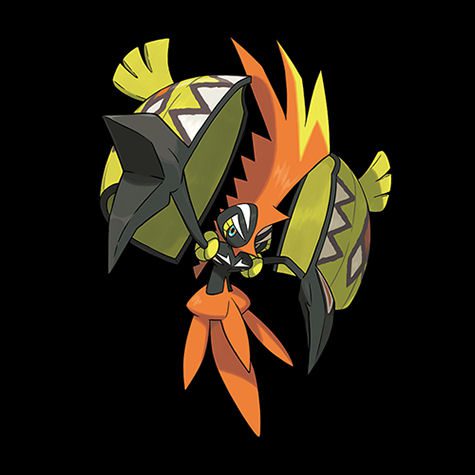 English Name – Tapu Koko
Japanese Name – Kapu Kokeko
First Appearance – 2016 (Sun & Moon)
Generation – VII
Based on – Rooster / Bird
Pokédex Number – 0785
Height – 1.8 m
Weight – 20.5 kg
Gender – Unknown
Primary Type – Electric
Secondary Type – Fairy
Weakness – Ground, Poison
Special Ability – Electric Surge
Tapu Koko Evolutions
Evolution – Tapu Koko does not evolve
Tapu Koko Pokédex Entries / Games
Sun & Moon 2016
Ultra Sun and Ultra Moon 2017
Tapu Koko Card List – (scroll to bottom for gallery view)
Sun and Moon Promos 2017 – 2019

Stage – Basic
HP – 110
Speciality – None
Card Number – SM30

Stage – Basic
HP – 110
Speciality – None
Card Number – SM30a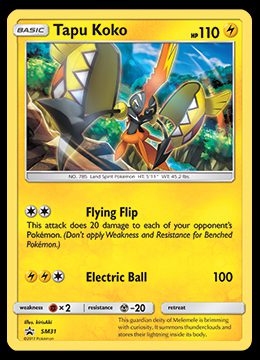 Stage – Basic
HP – 110
Speciality – None
Card Number – SM31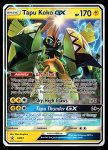 Stage – Basic
HP – 170
Speciality – GX
Card Number – SM33
Stage – Basic
HP – 170
Speciality – GX
Card Number – SM50
SM Guardians Rising 2017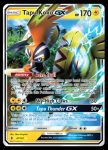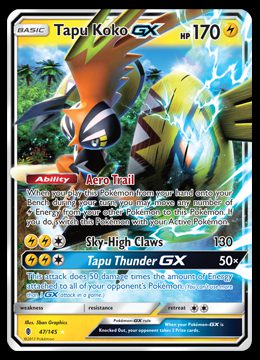 Stage – Basic
HP – 170
Speciality – GX
Card Numbers – 47/145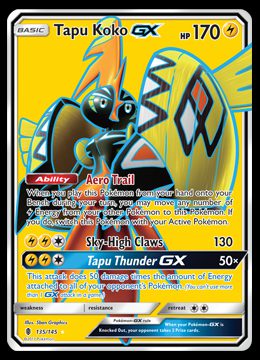 Stage – Basic
HP – 170
Speciality – GX
Card Numbers – 135/145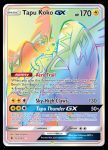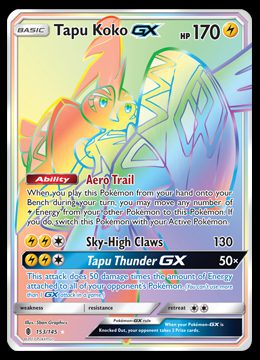 Stage – Basic
HP – 170
Speciality – GX
Card Numbers – 153/145
SM Lost Thunder 2018

Stage – Basic
HP – 120
Speciality – None
Card Number – 85/214
SM Team Up 2019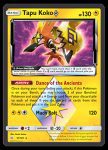 Tapu Koko Prism Star
Stage – Basic
HP – 130
Speciality – None
Card Number – 51/181
SM Unified Minds 2019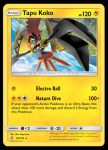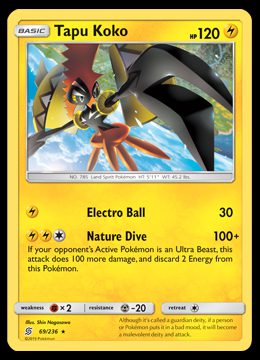 Stage – Basic
HP – 120
Speciality – None
Card Number – 69/236
SM Hidden Fates 2019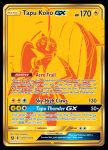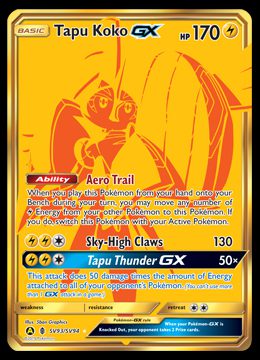 Stage – Basic
HP – 170
Speciality – GX
Card Number – SV93/SV94
Sword and Shield Base Set 2020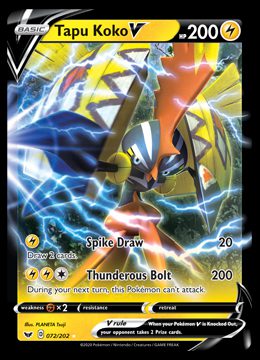 Stage – Basic
HP – 200
Speciality – V
Card Number – 072/202
SWSH Darkness Ablaze 2020

Stage – Basic
HP – 110
Speciality – None
Card Number – 61/189
SWSH Battle Styles 2021

Stage – Basic
HP – 210
Speciality – V
Card Numbers – 050/163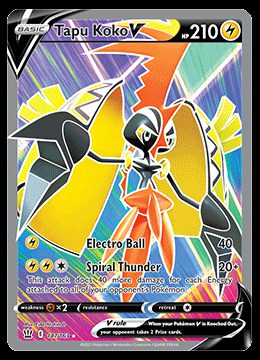 Stage – Basic
HP – 210
Speciality – V
Card Numbers – 147/163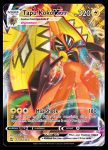 Stage – VMAX
HP – 320
Speciality – VMAX
Card Numbers – 051/163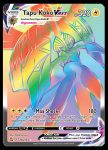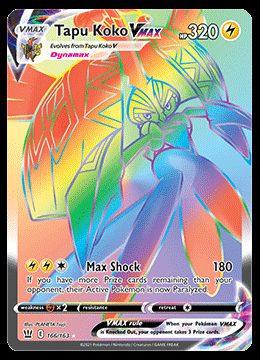 Stage – VMAX
HP – 320
Speciality – VMAX
Card Numbers – 166/163
SV Paradox Rift 2023


Stage – Basic
HP – 210
Speciality – ex
Card Numbers – 068/182

Stage – Basic
HP – 210
Speciality – ex
Card Numbers – 222/182
Stage – Basic
HP – 210
Speciality – ex
Card Numbers – 247/182
Gallery