Tsareena Pokédex Information
Tsareena first appeared in the games Pokémon X and Y which released Worldwide on October 12, 2013. 
This Pokémon is a two-legged character that is based on the mangosteen fruit but has human-like features. Its face and lower body are white while its legs, arms and neck are red. It has lush green foliage sprouting from its head that gives the appearance of long hair. This feared Pokémon has long, slender legs and a cruel heart. It shows no mercy as it stomps on its opponents.
Contents
Tsareena Pokédex Facts
Evolutions
Tsareena Pokédex Entries
TCG Cards
Tsareena Pokédex Facts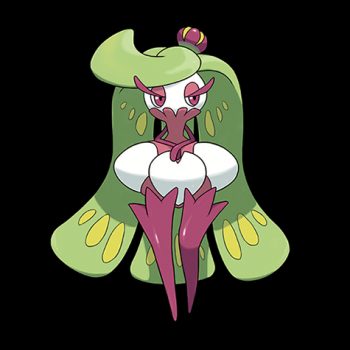 English Name – Tsareena
Japanese Name – Amājo
First Appearance – 2016 (Sun & Moon)
Based on – Mangosteen
Generation – VII
Pokédex Number – 763
Category – Fruit
Height – 1.2 m
Weight – 21.4 kg
Gender – Female
Type – Grass
Weakness – Bug, Fire, Flying, Ice, Poison
Special Ability – Leaf Guard, Queenly Majesty
Tsareena Evolutions
Evolution – Bounsweet evolves to Steennee (level 18); evolves to Tsareena (level up knowing Stomp)
| | | |
| --- | --- | --- |
| | | |
|   | | |
Tsareena Pokédex Entries / Games
Sun & Moon 2016
Ultra Sun and Ultra Moon 2018
Sword & Shield 2019
Sword & Shield Expansion 2020
Tsareena Card List – (scroll to bottom for gallery view)
Sun and Moon Promo Cards – 2017 – 2019

Stage – 2
HP – 140
Speciality – None
Card Numbers – SM26

Stage – 2
HP – 230
Speciality – GX
Card Numbers – SM56
Sun and Moon Base Set 2017


Stage – 2
HP – 140
Speciality – None
Card Numbers – 20/149
SM Unified Minds 2019


Stage – 2
HP – 140
Speciality – None
Card Numbers – 19/236
SWSH Darkness Ablaze 2020


Stage – 2
HP – 150
Speciality – None
Card Numbers – 016/189
SWSH Chilling Reign 2021

Stage – 2
HP – 140
Speciality – None
Card Numbers – 015/198
SWSH Fusion Strike 2021


Stage – Basic
HP – 200
Speciality – V
Card Numbers – 021/264
Stage – Basic
HP – 200
Speciality – V
Card Numbers – 246/264
SWSH Silver Tempest 2022

Stage – Basic
HP – 140
Speciality – Radiant
Card Numbers – 016/195
Gallery