Ariados Pokédex Information
Ariados is a Bug / Poison type Pokémon that first appeared in the games Pokémon Gold and Silver which were released in Japan in November 1999. It evolves from Spinarak.
Ariados is a four-legged character that resembles a spider. It has a red and black striped head and body while its legs are striped yellow and purple. On its back are two upward projections which are similar to its legs. It has a white horn on its head and two powerful mandibles. Every night, it wanders around in search of prey, whose movements it restrains by spewing threads before it bites into them with its fangs. 
Contents
Ariados Pokédex Facts
Evolutions
Ariados Pokédex Entries
TCG Cards
Ariados Pokédex Facts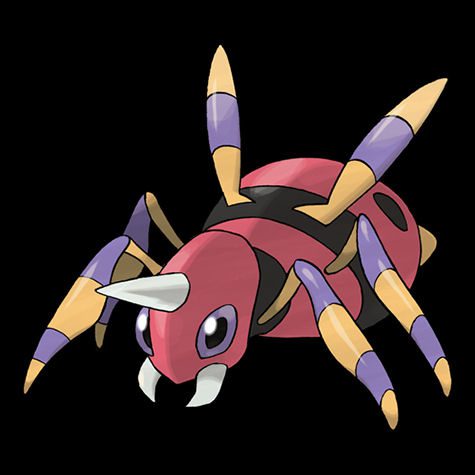 English Name – Ariados
Japanese Name – Ariados
First Appearance – 1999 (Pokémon Gold and Silver)
Generation – II
Based on – Spider
Pokédex Number – 0168
Category – Long Leg
Height – 1.1 m
Weight – 33.5 kg
Gender – Male, Female 
Primary Type – Bug
Secondary Type – Poison
Weakness – Fire, Flying, Psychic, Rock
Special Abilities – Insomnia, Swarm
Ariados Evolutions
Evolution – Spinarak evolves to Ariados (Level 22)
| | | |
| --- | --- | --- |
| Spinarak | Level 22 | Ariados |
Ariados Pokédex Entries / Games
Gold and Silver  1999
Pokémon Crystal 2000
Pokémon Stadium 2 2000
Ruby and Sapphire  2002
Pokémon Emerald  2004
FireRed and LeafGreen  2005
Diamond and Pearl  2006
Platinum  2008
HeartGold and SoulSilver  2009
Pokémon Black and White  2011
Black 2 and White 2  2012 
Pokémon X and Y  2013
Omega Ruby, Alpha Sapphire  2015  
Sun and Moon 2016
Ultra Sun and Ultra Moon 2017
Brilliant Diamond, Shining Pearl  2021
Ariados Card List – (scroll to bottom for gallery view)
Neo Genesis 2000


Stage – 1
HP – 60
Level – 29
Card Number – 27/111
Neo Destiny 2002


Stage – 1
HP – 60
Level – 28
Card Number – 17/105
Aquapolis 2003


Stage – 1
HP – 70
Speciality – None
Card Number – 3/147

Stage – 1
HP – 70
Speciality – None
Card Number – H3/H32
EX Team Rocket Returns 2004

Stage – 1
HP – 70
Speciality – None
Card Number – 30/109
EX Unseen Forces 2005


Stage – 1
HP – 70
Speciality – None
Card Number – 2/115
DP Mysterious Treasures 2007

Stage – 1
HP – 80
Level – 32
Card Number – 20/123
HeartGold SoulSilver 2010


Stage – 1
HP – 80
Speciality – None
Card Numbers – 15/123
XY Ancient Origins 2015

Stage – 1
HP – 70
Speciality – None
Card Numbers – 6/98
SM Celestial Storm 2018

Stage – 1
HP – 70
Speciality – None
Card Numbers – 6/168
SM Lost Thunder 2018


Stage – 1
HP – 110
Speciality – None
Card Numbers – 10/214
SWSH Darkness Ablaze 2020


Stage – 1
HP – 110
Speciality – None
Card Numbers – 103/189
SWSH Brilliant Stars 2021

Stage – 1
HP – 110
Speciality – None
Card Numbers – TG09/TG30
SWSH Pokémon Go 2022

Stage – 1
HP – 110
Speciality – None
Card Numbers – 007/078

SWSH Lost Origin 2022


Stage – 1
HP – 90
Speciality – None
Card Numbers – 113/196

SWSH Silver Tempest 2022


Stage – 1
HP – 90
Speciality – None
Card Numbers – 004/195
Gallery