Spinarak Pokédex Information
Spinarak is a Bug / Poison type Pokémon that first appeared in the games Pokémon Gold and Silver which were released in Japan in November 1999. It evolves to Ariados.
Spinarak is a six-legged character that resembles a spider. Its body and head are green with black markings. Its six legs are yellow and black striped. It has a sharp white spike protruding from its head and two red mandibles. With threads from its mouth, it fashions sturdy webs that won't break even if you set a rock on them.
Contents
Spinarak Pokédex Facts
Evolutions
Spinarak Pokédex Entries
TCG Cards
Spinarak Pokédex Facts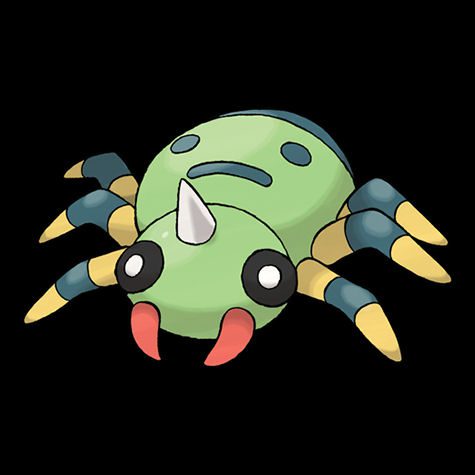 English Name – Spinarak
Japanese Name – Itomaru
First Appearance – 1999 (Pokémon Gold and Silver)
Generation – II
Based on – Spider
Pokédex Number – 0167
Category – String Spit
Height – 0.5 m
Weight – 8.5 kg
Gender – Male, Female 
Primary Type – Bug
Secondary Type – Poison
Weakness – Fire, Flying, Psychic, Rock
Special Abilities – Insomnia, Swarm
Spinarak Evolutions
Evolution – Spinarak evolves to Ariados (Level 22)
| | | |
| --- | --- | --- |
| Spinarak | Level 22 | Ariados |
Spinarak Pokédex Entries / Games
Gold and Silver  1999
Pokémon Crystal 2000
Pokémon Stadium 2 2000
Ruby and Sapphire  2002
Pokémon Emerald  2004
FireRed and LeafGreen  2005
Diamond and Pearl  2006
Platinum  2008
HeartGold and SoulSilver  2009
Pokémon Black and White  2011
Black 2 and White 2  2012 
Pokémon X and Y  2013
Omega Ruby, Alpha Sapphire  2015  
Sun and Moon 2016
Ultra Sun and Ultra Moon 2017
Brilliant Diamond, Shining Pearl  2021
Spinarak Card List – (scroll to bottom for gallery view)
Neo Genesis 2000


Stage – Basic
HP – 40
Level – 15
Card Number – 75/111
Neo Discovery 2002


Stage – Basic
HP – 50
Level – 19
Card Number – 64/75
Aquapolis 2003

Stage – Basic
HP – 50
Speciality – None
Card Number – 62/147
Stage – Basic
HP – 40
Speciality – None
Card Number – 111/147
EX Team Rocket Returns 2004


Stage – Basic
HP – 50
Speciality – None
Card Number – 78/109
EX Unseen Forces 2005


Stage – Basic
HP – 50
Speciality – None
Card Number – 75/115
DP Mysterious Treasures 2007


Stage – Basic
HP – 50
Level – 18
Card Number – 103/123
HeartGold SoulSilver 2010

Stage – Basic
HP – 50
Speciality – None
Card Numbers – 83/123
XY Ancient Origins 2015

Stage – Basic
HP – 50
Speciality – None
Card Numbers – 5/98
SM Celestial Storm 2018


Stage – Basic
HP – 50
Speciality – None
Card Numbers – 5/168
SM Lost Thunder 2018


Stage – Basic
HP – 50
Speciality – None
Card Numbers – 9/214
SWSH Darkness Ablaze 2020


Stage – Basic
HP – 60
Speciality – None
Card Numbers – 102/189
SWSH Shining Fates 2021

Stage – Basic
HP – 60
Speciality – None
Card Numbers – 043/072
SWSH Pokémon Go 2022

Stage – Basic
HP – 60
Speciality – None
Card Numbers – 006/078

SWSH Lost Origin 2022

Stage – Basic
HP – 50
Speciality – None
Card Numbers – 112/196

SWSH Silver Tempest 2022

Stage – Basic
HP – 60
Speciality – None
Card Numbers – 003/195
Gallery