Froslass Pokédex Information
Froslass is an Ice / Ghost type Pokémon that first appeared in the game Pokémon Diamond and Pearl which released in Japan on September 28th 2006. It evolves from Snorunt.
This Pokémon is a female only character that is based on the legendary Yuki-onna.. It has a white head and body with purple flashes and blue markings and wears an orange sash around its waist. Its two arms are attached to each side of its head and hang down flaring out at the bottom..  After a woman met her end on a snowy mountain, her regrets lingered on. From them, this Pokémon was born. Its favourite food is frozen souls.
Contents
Froslass Pokédex Facts
Evolutions
Froslass Pokédex Entries
TCG Cards
Froslass Pokédex Facts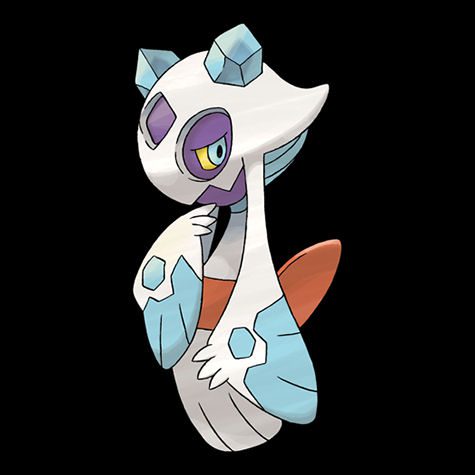 English Name – Froslass
Japanese Name – Yukimenoko
First Appearance – 2010 (Pokémon Black and White)
Based on – Legendary female spirit
Generation – IV
Pokédex Number – 0479
Category – Snow Land
Height – 1.3 m
Weight – 26.6 kg
Gender – Female
Primary Type –  Ice
Secondary Type – Ghost
Weakness – Dark, Fire, Ghost, Rock, Steel
Special Ability – Snow Cloak
Froslass Evolutions
Evolution – Female Snorunt evolves to Froslass (with Dawn Stone)
Froslass Pokédex Entries / Games
Diamond and Pearl  2006
Platinum  2008
HeartGold and SoulSilver  2009
Pokémon Black and White  2011
Black 2 and White 2  2012
Pokémon X and Y  2014   
Omega Ruby, Alpha Sapphire  2015  
Sword and Shield  2020
Brilliant Diamond, Shining Pearl  2021
Legends Arceus  2022
Scarlet and Violet 2022
Froslass Card List – (scroll to bottom for gallery view)
DP Legends Awakened 2008

Stage – 1
HP –  90
Level – 46
Card Number – 3/146
Platinum Rising Rivals 2009

Stage – 1
HP –  70
Level – 44
Card Number – 6/111
Platinum Arceus 2009


Stage – 1
HP –  80
Level – 45
Card Number – 2/99
BW Plasma Blast 2013

Stage – 1
HP –  90
Speciality – None
Card Number – 23/101
XY Generations 2016

Stage – 1
HP –  90
Speciality – None
Card Number – RC8/RC32
SM Unified Minds 2019

Stage – 1
HP –  80
Speciality – None
Card Number – 38/236
SWSH Chilling Reign 2021

Stage – 1
HP –  90
Speciality – None
Card Number – 036/198
SWSH Evolving Skies 2021

Stage – 1
HP –  90
Speciality – None
Card Number – 226/203
SWSH Silver Tempest 2022


Stage – 1
HP –  90
Speciality – None
Card Number – 043/195
SV Paradox Rift 2023

Stage – 1
HP –  250
Speciality – ex
Card Number – 003/182
Stage – 1
HP –  250
Speciality – ex
Card Number – 217/182
Gallery