Rotom Pokédex Information
Rotom is an Electric / Ghost type Pokémon that first appeared in the game Pokémon Diamond and Pearl which released in Japan on September 28th 2006. 
Rotom is a small creature with a red body and head surrounded by an aura of white / blue electricity. It is said to be based on a spirit. On either side of its body it has lightning shaped appendages. One boy's invention led to the development of many different machines that take advantage of Rotom's unique capabilities:
Heat Rotom – This Rotom has possessed a convection microwave oven that uses a special motor. It also has a flair for manipulating flames.
Wash Rotom – This form of Rotom enjoys coming up with water- based pranks. Be careful with it if you don't want your room flooded.
Frost Rotom – Rotom assumes this form when it takes over a refrigerator powered by a special motor. It battles by spewing cold air.
Fan Rotom – In this form, Rotom applies its new power over wind to its love of pranks. It will happily blow away any important documents it can find.
Mow Rotom – This is Rotom after it's seized control of a lawn mower that has a special motor. As it mows down grass, it scatters the clippings everywhere.
Contents
Rotom Pokédex Facts
Evolutions
Rotom Pokédex Entries
TCG Cards
Rotom Pokédex Facts
English Name – Rotom
Japanese Name – Rotomu
First Appearance – 2010 (Pokémon Black and White)
Based on – Spirit
Generation – IV
Pokédex Number – 0479
Original Rotom
Category – Plasma
Height – 0.3 m
Weight – 0.3 kg
Gender – Unknown
Primary Type –  Electric
Secondary Type – Ghost
Weakness – Dark, Ghost, Ground
Special Ability – Levitate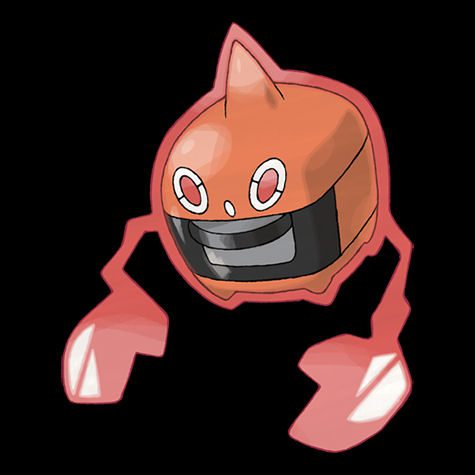 Heat Rotom
Category – Plasma
Height – 0.3 m
Weight – 0.3 kg
Gender – Unknown
Primary Type –  Electric
Secondary Type – Fire
Weakness – Ground, Rock, Water
Special Ability – Levitate

Wash Rotom
Category – Plasma
Height – 0.3 m
Weight – 0.3 kg
Gender – Unknown
Primary Type –  Electric
Secondary Type – Water
Weakness – Grass, Ground, Rock
Special Ability – Levitate

Frost Rotom
Category – Plasma
Height – 0.3 m
Weight – 0.3 kg
Gender – Unknown
Primary Type –  Electric
Secondary Type – Ice
Weakness – Fighting, Fire, Ground, Rock
Special Ability – Levitate

Fan Rotom
Category – Plasma
Height – 0.3 m
Weight – 0.3 kg
Gender – Unknown
Primary Type –  Electric
Secondary Type – Flying
Weakness – Ice, Rock
Special Ability – Levitate

Mow Rotom
Category – Plasma
Height – 0.3 m
Weight – 0.3 kg
Gender – Unknown
Primary Type –  Electric
Secondary Type – Grass
Weakness – Bug, Fire, Ice, Poison
Special Ability – Levitate
Rotom Evolutions
Evolution – Rotom does not evolve
Rotom Pokédex Entries / Games
Diamond and Pearl  2006
Platinum  2008
HeartGold and SoulSilver  2009
Pokémon Black and White  2011
Black 2 and White 2  2012
Pokémon X and Y  2014   
Omega Ruby, Alpha Sapphire  2015  
Sword and Shield  2020
Brilliant Diamond, Shining Pearl  2021
Legends Arceus  2022
Scarlet & Violet 2022
Rotom Card List – (scroll to bottom for gallery view)
DP Great Encounters 2008

Stage – Basic
HP –  70
Level – 38
Card Number – 7/106
DP Majestic Dawn 2008

Stage – Basic
HP –  60
Level – 37
Card Number – 13/100
Pop Series 9 2009

Stage – Basic
HP –  70
Level – 46
Card Number – 5/17
Platinum Rising Rivals 2009

Fan Rotom
Stage – Basic
HP –  70
Level – 46
Card Number – RT1
Frost Rotom
Stage – Basic
HP –  90
Level – 46
Card Number – RT2
Heat Rotom
Stage – Basic
HP –  80
Level – 46
Card Number – RT3
Mow Rotom
Stage – Basic
HP –  90
Level – 46
Card Number – RT4

Wash Rotom
Stage – Basic
HP –  90
Level – 46
Card Number – RT5
Platinum Supreme Victors 2009

Stage – Basic
HP –  70
Level – 40
Card Number – 82/147
HGSS Undaunted 2010

Stage – Basic
HP –  60
Speciality – None
Card Number – 20/90
BW Plasma Storm 2013

Stage – Basic
HP –  60
Speciality – None
Card Number – 49/135
XY Ancient Origins 2015


Stage – Basic
HP –  70
Speciality – None
Card Number – 29/98
XY Fates Collide 2016


Stage – Basic
HP –  70
Speciality – None
Card Number – 24/124
Sun and Moon Promo Cards 2017-2019

Wash Rotom
Stage – Basic
HP –  70
Speciality – None
Card Number – SM94
Sun and Moon Base Set 2017

Rotom Dex
Trainer 
Type – Item
Card Number – 131/149
Rotom Dex
Trainer Card
Type – Item
Card Number – 159/149
SM Burning Shadows 2017

Rotom Dex – Poké Finder Mode
Trainer Card
Type – Item
Card Number – 122/147
SM Ultra Prism 2018

Mow Rotom
Stage – Basic
HP –  90
Speciality – None
Card Number – 14/156
Heat Rotom
Stage – Basic
HP –  90
Speciality – None
Card Number – 24/156

Wash Rotom
Stage – Basic
HP –  90
Speciality – None
Card Number – 40/156
Frost Rotom
Stage – Basic
HP –  90
Speciality – None
Card Number – 41/156

Stage – Basic
HP –  70
Speciality – None
Card Number – 50/156
Fan Rotom
Stage – Basic
HP –  90
Speciality – None
Card Number – 110/156
SM Forbidden Light 2018


Stage – Basic
HP –  70
Speciality – None
Card Number – 40/131
SM Cosmic Eclipse 2019

Stage – Basic
HP –  70
Speciality – None
Card Number – 86/236
Sword and Shield Promo Cards 2020 – 2023

Stage – Basic
HP –  190
Speciality – V
Card Number – SWSH257
Sword and Shield Base Set 2020

Rotom Bike
Trainer Card
Type – Item
Card Number – 181/202
SWSH Champion's Path 2020

Rotom Bike
Trainer Card
Type – Item
Card Number – 063/073
Rotom Phone
Trainer Card
Type – Item
Card Number – 064/073
SWSH Vivid Voltage 2020

Drone Rotom
Trainer Card
Type – Item
Card Number – 151/185
SWSH Shining Fates 2021

Stage – Basic
HP –  80
Speciality – None
Card Number – 034/072
Stage – Basic
HP –  80
Speciality – None
Card Number – SV038/SV122
SWSH Fusion Strike 2021

Stage – Basic
HP –  80
Speciality – None
Card Number – 094/264
SWSH Lost Origin 2022

Stage – Basic
HP –  190
Speciality – V
Card Number – 058/196
Stage – Basic
HP –  190
Speciality – V
Card Number – 176/196
Stage – Basic
HP –  190
Speciality – V
Card Number – 177/196
SWSH Silver Tempest 2022

Stage – Basic
HP –  80
Speciality – None
Card Number – 053/195
SWSH Crown Zenith 2023

Stage – Basic
HP –  190
Speciality – V
Card Number – 045/159
Stage – VSTAR
HP –  250
Speciality – VSTAR
Card Number – 046/159
Scarlet and Violet Base Set


Stage – Basic
HP –  60
Speciality – None
Card Number – 069/198
Stage – Basic
HP –  80
Speciality – None
Card Number – 070/198
Gallery