Garchomp Pokédex Information
Garchomp is a Dragon / Ground type Pokémon that first appeared in the game Pokémon Diamond and Pearl which released in Japan on September 28th 2006. 
This Pokémon is a two-legged creature that may be based on a dinosaur, a hammerhead shark or a jet plane. It is mainly dark blue but has a red lower jaw and chest and yellow markings on its lower body and head. It has sharp claws on its arms, legs and wings. Garchomp makes its home in volcanic mountains. It flies through the sky as fast as a jet airplane, hunting down as much prey as it can.
In mega forme its appearance changes slightly and it has additional red spikes on its legs. . Its arms and wings melted into something like scythes. Mad with rage, it rampages on and on. 
Contents
Garchomp Pokédex Facts
Evolutions
Garchomp Pokédex Entries
TCG Cards
Garchomp Pokédex Facts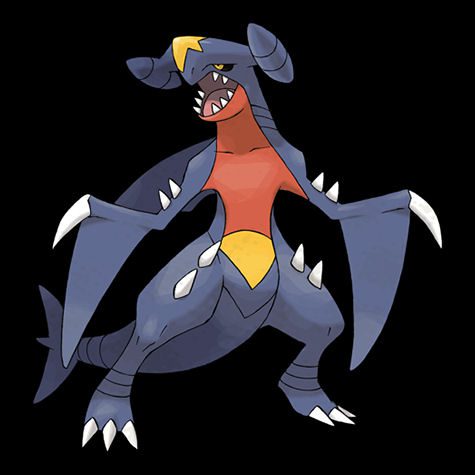 English Name – Garchomp
Japanese Name -Gaburiasu
First Appearance – 2006 (Pokémon Diamond and Pearl)
Generation – IV
Pokédex Number – 445
Regular Form
Category – Mach
Height – 1.9 m
Weight – 95 kg
Gender – Male, Female
Primary Type – Dragon
Secondary Type – Ground
Weakness – Dragon, Fairy, Ice
Special Ability – Sand Veil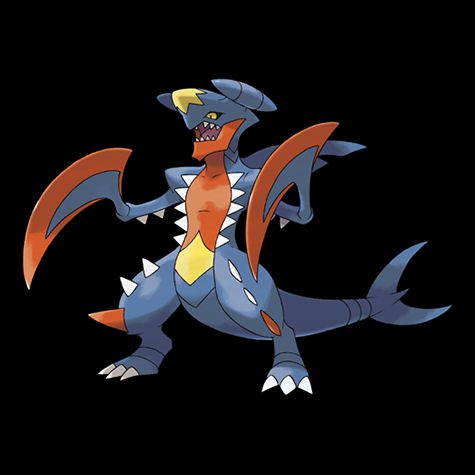 Mega Form
Category – Mach
Height – 1.9 m
Weight – 95 kg
Gender – Male, Female
Primary Type – Dragon
Secondary Type – Ground
Weakness – Dragon, Fairy, Ice
Special Ability – Sand Veil
Garchomp Evolutions
Evolution – Gible evolves to Gabite (level 24); evolves to Garchomp (level 48)
| | | |
| --- | --- | --- |
| Gible | Level 24 | Gabite |
| Level 48 | Garchomp | |
Garchomp Pokédex Entries / Games
Diamond and Pearl  2006
Platinum  2008
HeartGold and SoulSilver  2009
Pokémon Black and White  2011
Black 2 and White 2  2012
Pokémon X and Y  2014   
Omega Ruby, Alpha Sapphire  2015  
Sun and Moon  2016
Ultra Sun and Ultra Moon  2017
Sword and Shield  2019
Brilliant Diamond, Shining Pearl  2021
Legends Arceus  2022
Scarlet and Violet 2022
Garchomp Card List – (scroll to bottom for gallery view)
Diamond and Pearl Promo Cards 2007 – 2009

Garchomp C
Stage – Level Up
HP – 110
Level – Lv.X
Card Number – DP46
DP Mysterious Treasures 2007


Stage – 2
HP – 130
Level – 66
Card Number – 9/123
DP Majestic Dawn 2008

Stage – Level Up
HP – 140
Level – Lv.X
Card Number – 97/100
POP Series 9 2009

Stage – 2
HP – 130
Level – 64
Card Number – 1/17
Platinum Supreme Victors  2009


Stage – 2
HP – 130
Level – 71
Card Number – 5/147

Garchomp C
Stage – 2
HP – 80
Level – 62
Card Number – 60/147
Garchomp C
Stage – Level Up
HP – 110
Level – Lv.X
Card Number – 145/147
BW Dragons Exalted 2012

Stage – 2
HP – 140
Speciality – None
Card Number – 90/124

Stage – 2
HP – 140
Speciality – None
Card Number – 91/124
BW Plasma Freeze 2013

Stage – 2
HP – 140
Speciality – None
Card Number – 120/116
XY Promo Cards 2014 – 2016

Stage – Basic
HP – 170
Speciality – EX
Card Number – XY09
Stage – Basic
HP – 180
Speciality – None
Card Number – XY167

Stage – Mega
HP – 210
Speciality – EX
Card Number – XY168
Garchomp Spirit Link
Trainer
Item
Card Number – XY169
BW Legendary Treasures 2013

Stage – 2
HP – 140
Speciality – None
Card Number – 96/113
XY BREAKPoint 2016

Stage – 2
HP – 130
Speciality – None
Card Number – 70/122
Sun and Moon Promo Cards 2017 – 2019

Garchomp & Giratina Tag Team
Stage – Basic
HP – 270
Speciality – GX
Card Number – SM193
SM Ultra Prism 2018

Stage – 2
HP – 150
Speciality – None
Card Number – 99/156
SM Forbidden Light 2018

Stage – 2
HP – 150
Speciality – None
Card Number – 62/131
SM Unified Minds 2019


Stage – 2
HP – 150
Speciality – None
Card Number – 114/236

Garchomp & Giratina Tag Team
Stage – Basic
HP – 270
Speciality – GX
Card Number – 146/236

Garchomp & Giratina Tag Team
Stage – Basic
HP – 270
Speciality – GX
Card Number – 228/236

Garchomp & Giratina Tag Team
Stage – Basic
HP – 60
Speciality – GX
Card Number – 247/236
SM Hidden Fates 2019


Stage – 2
HP – 150
Speciality – None
Card Number – SV40/SV94
SWSH Celebrations 2021


Garchomp C
Stage – Level Up
HP – 110
Level – Lv.X
Card Number – 145/147
SWSH Brilliant Stars 2022

Stage – 2
HP – 160
Speciality – None
Card Number – 109/172
SWSH Astral Radiance 2022


Stage – Basic
HP – 200
Speciality – V
Card Number – 117/189
Stage – Basic
HP – 200
Speciality – V
Card Number – 178/189
Stage – Basic
HP – 200
Speciality – V
Card Number – TG23/TG30
SV Paradox Rift 2023


Stage – 2
HP –  320
Speciality – ex
Card Number – 038/182

Stage – 2
HP –  320
Speciality – ex
Card Number – 219/182
Stage – 2
HP –  320
Speciality – ex
Card Number – 245/182
Stage – 2
HP –  320
Speciality – ex
Card Number – 260/182
Gallery