Gible Pokédex Information
Gible is a Dragon / Ground type Pokémon that first appeared in the games Pokémon Diamond and Pearl which released in Japan on September 28th 2006. It evolves to Gabite which evolves to Garchomp.
This Pokémon is a short two-legged creature that may be based on a shark. It is mainly dark blue but has a red lower jaw and chest. It has a pale blue stipe across its back and pale blue stripes on the protrusions at the side of its head. It has sharp claws and sharp teeth. Gible prefers to stay in narrow holes in the sides of caves heated by geothermal energy. This way, it can stay warm even during a blizzard.
Contents
Gible Pokédex Facts
Evolutions
Gible Pokédex Entries
TCG Cards
Gible Pokédex Facts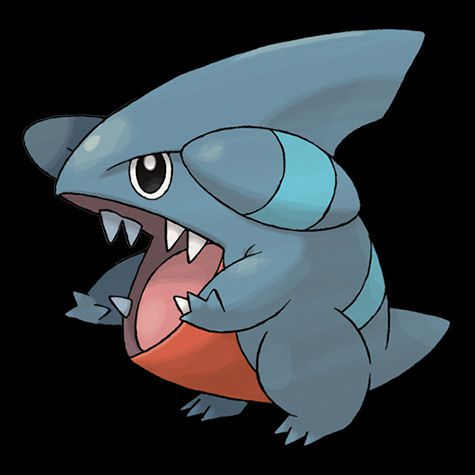 English Name – Gible
Japanese Name – Fukamaru
First Appearance – 2006 (Pokémon Diamond and Pearl)
Generation – IV
Based on – Shark / Dragon
Pokédex Number – 0443
Regular Form
Category – Land Shark
Height – 0.7 m
Weight – 20.5 kg
Gender – Male, Female
Primary Type – Dragon
Secondary Type – Ground
Weakness – Dragon, Fairy, Ice
Special Ability – Sand Veil
Gible Evolutions
Evolution – Gible evolves to Gabite (level 24); evolves to Garchomp (level 48)
| | | |
| --- | --- | --- |
| Gible | Level 24 | Gabite |
| Level 48 | Garchomp | |
Gible Pokédex Entries / Games
Diamond and Pearl  2006
Platinum  2008
HeartGold and SoulSilver  2009
Pokémon Black and White  2011
Black 2 and White 2  2012
Pokémon X and Y  2014   
Omega Ruby, Alpha Sapphire  2015  
Sun and Moon  2016
Ultra Sun and Ultra Moon  2017
Sword and Shield  2019
Brilliant Diamond, Shining Pearl  2021
Legends Arceus  2022
Scarlet and Violet 2022
Gible Card List – (scroll to bottom for gallery view)
DP Mysterious Treasures 2007


Stage – Basic
HP – 50
Level – 9
Card Number – 85/123
POP Series 6  2007


Stage – Basic
HP – 50
Level – 8
Card Number – 7/17
POP Series 9  2009


Stage – Basic
HP – 50
Level – 9
Card Number – 14/17
Platinum Supreme Victors  2009

Stage – Basic
HP – 60
Level – 12
Card Number – 106/147
BW Dragons Exalted 2012


Stage – Basic
HP – 50
Speciality – None
Card Number – 86/124

Stage – Basic
HP – 60
Speciality – None
Card Number – 87/124
BW Legendary Treasures 2013

Stage – Basic
HP – 50
Speciality – None
Card Number – 94/113
XY BREAKPoint 2016

Stage – Basic
HP – 60
Speciality – None
Card Number – 68/122
SM Ultra Prism 2018


Stage – Basic
HP – 50
Speciality – None
Card Number – 96/156
Stage – Basic
HP – 60
Speciality – None
Card Number – 97/156
SM Forbidden Light 2018

Stage – Basic
HP – 50
Speciality – None
Card Number – 60/131
SM Unified Minds 2019


Stage – Basic
HP – 60
Speciality – None
Card Number – 112/236
SM Hidden Fates 2019

Stage – Basic
HP – 50
Speciality – None
Card Number – SV38/SV94
SWSH Brilliant Stars 2022


Stage – Basic
HP – 70
Speciality – None
Card Number – 107/172
SV Paradox Rift 2023


Stage – Basic
HP –  70
Speciality – None
Card Number – 094/182
Gallery