Drakloak Pokédex Information
Drakloak is a Dragon / Ghost type Pokémon that first appeared in the games Pokémon Sword and Shield which released Worldwide on November 15, 2019. 
This Pokémon is a green character that is loosely based on a lizard or amphibian. It has a lizard-like body that tapers to a tail with two small fins and two arms.  It has a white bib front with a red chevron marking. Its head is black and triangular in shape, resembling a jet plane. It is generally seen with a Dreepy on its head. It's capable of flying faster than 120 mph. It battles alongside Dreepy and dotes on them until they successfully evolve.
Contents
Drakloak Pokédex Facts
Evolutions
Drakloak Pokédex Entries
TCG Cards
Drakloak Pokédex Facts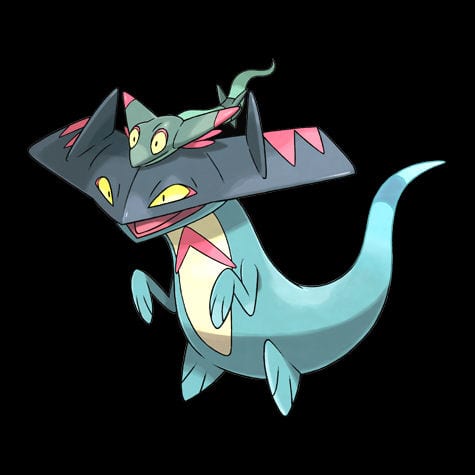 English Name – Drakloak
Japanese Name – Doronchi 
First Appearance – 2020 (Pokémon Sword and Shield)
Based on – Amphibian / Lizard
Generation – VIII
Pokédex Number – 0886
Category – Caretaker
Height – 1.4 m
Weight – 11.0 kg
Gender – male or female
Primary Type – Dragon
Secondary Type –  Ghost
Weakness – Dark, Dragon, Fairy, Ghost, Ice
Special Ability – Clear body, Infiltrator
Drakloak Evolutions
Evolution – Dreepy evolves to Drakloak (level 17); evolves to Dragapult (level 34)
| | | |
| --- | --- | --- |
| Dreepy | Level 17 | Drakloak |
| Level 34 | Dragapult | |
Drakloak Pokédex Entries / Games
Pokémon Sword and Shield 2019
Drakloak Card List – (scroll to bottom for gallery view)
SWSH Rebel Clash 2020


Stage – 1
HP – 90
Speciality – None
Card Number – 090/192
SWSH Shining Fates 2021


Stage – 1
HP – 90
Speciality – None
Card Number – SV061/SV122
SWSH Fusion Strike 2021

Stage – 1
HP – 90
Speciality – None
Form – Fusion Strike
Card Number – 129/264
SWSH Silver Tempest 2022

Stage – 1
HP – 90
Speciality – None
Card Number – 088/195
Gallery