Gengar Pokédex Information
Gengar is a Ghost / Poison type Pokémon that first appeared in the games Pokémon Red and Blue which released in Japan on 12th September 1999. It evolves from Haunter and is the final evolution of Gastly.
Gengar is a purple, two-legged Pokémon that is defined as a shadow Pokémon possibly the shadow of Clefable. It may also be based on a spirit and its grin bears resemblance to the Cheshire Cat in Alice in Wonderland. It has a large round, purple body which is dominated by its red eyes and wide, grinning mouth. It has two short stubby legs, with black pads on its feet, two arms with three pointed fingers and a pointed tail. Its pointed ears stand up from its head and short tufts of fur can be seen between its ears. To steal the life of its target, it slips into the prey's shadow and silently waits for an opportunity.
It evolves to Mega Gengar with Gengarite. In this form the lower part of its body and arms are red and it has no legs. Its upper arms are thin extending to large hands that have spiky projections extending backwards. Its tail has more spikes as does its head and back. In this form it has a third yellow eye. It can pass through other dimensions and appear anywhere. It caused a stir one time when it stuck just one leg out of a wall. 
Gengar can evolve to Gigantamax form with the Dynamax Band. In this form it is much bigger and heavier. Its huge form is dominated by its enormous, open mouth, which resembles a long, red tunnel, and its long red tongue. Its two eyes are yellow and red clouds float above its head. Rumor has it that its gigantic mouth leads not into its body, filled with cursed energy, but instead directly to the afterlife.
Contents
Gengar Pokédex Facts
Evolutions
Gengar Pokédex Entries
TCG Cards
Gengar Pokédex Facts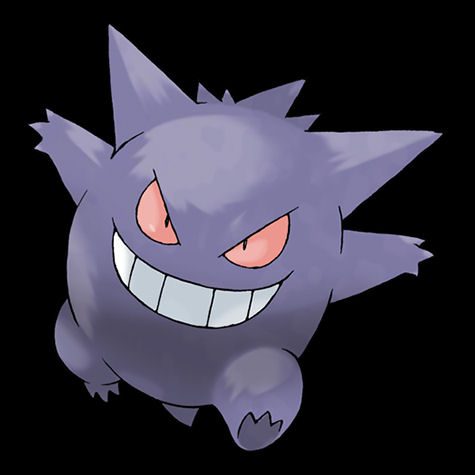 English Name – Gengar
Japanese Name – Gengā
First Appearance – 1999 (Pokémon Red and Blue)
Based on – Shadow Spirit / Cheshire Cat
Generation – I
Pokédex Number – 0094
Regular Form
Category – Shadow
Height – 1.5 m
Weight – 40.5 kg
Gender – Male, Female
Primary Type – Ghost
Secondary Type – Poison
Weakness – Dark, Ghost, Ground, Psychic
Special Abilities – Cursed Body
Mega Form
Category – Shadow
Height – 1.4 m
Weight – 40.5 kg
Gender – Male, Female
Primary Type – Ghost
Secondary Type – Poison
Weakness – Dark, Ghost, Ground, Psychic
Special Abilities – Shadow Tag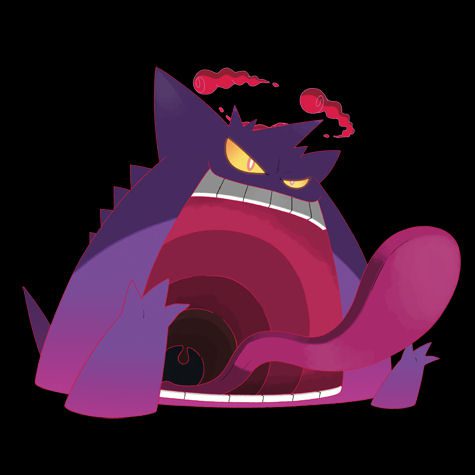 Gigantamax Form
Category – Shadow
Height – >20 m
Weight – Unknown
Gender – Male, Female
Primary Type – Ghost
Secondary Type – Poison
Weakness – Dark, Ghost, Ground, Psychic
Special Abilities – Cursed Body
Gengar Evolutions
Evolution – Gastly evolves to Haunter (Level 25); evolves to Gengar (with Linking Cord)
| | | |
| --- | --- | --- |
| Gastly | Level 25 | Haunter |
| with Linking Cord | Gengar | |
Gengar Pokédex Entries / Games
Pokémon Red and Blue 1999
Pokémon Yellow  2000
Pokémon Stadium  2000
Gold and Silver  1999
Pokémon Crystal 2000
Pokémon Stadium 2 2000
Ruby and Sapphire  2002
Pokémon Emerald  2004
FireRed and LeafGreen  2005
Diamond and Pearl  2006
Platinum  2008
HeartGold and SoulSilver  2009
Pokémon Black and White  2011
Black 2 and White 2  2012 
Pokémon X and Y  2013
Omega Ruby, Alpha Sapphire  2015  
Sun and Moon 2016
Ultra Sun and Ultra Moon 2017
Let's Go Pikachu, Let's Go Eevee 2018
Sword and Shield 2019
Brilliant Diamond, Shining Pearl  2021
Scarlet and Violet 2022
Gengar Card List – (scroll to bottom for gallery view)
Pokémon Fossil 1999


Stage – 2
HP – 80
Level – 38
Card Number – 5/62

Stage – 2
HP – 80
Level – 38
Card Number – 20/62
Pokémon Gym Heroes 2000

Stage – 2
HP – 80
Level – 39
Card Number – 14/132
Pokémon Gym Challenge 2000

Stage – 2
HP – 90
Level – 42
Card Number – 29/132
Neo Destiny 2002


Stage – 2
HP – 70
Level – 32
Card Number – 6/105
Pokémon Legendary Collection 2002

Stage – 2
HP – 80
Level – 38
Card Number – 11/110
Pokémon Expedition Base Set 2002

Stage – 2
HP – 90
Speciality – None
Card Number – 13/165
Stage – 2
HP – 90
Speciality – None
Card Number – 48/165
Pokémon Skyridge 2003

Stage – 2
HP – 100
Speciality – None
Card Number – 10/144

Stage – 2
HP – 100
Speciality – None
Card Number – H9/H32
EX FireRed, LeafGreen 2004

Stage – 2
HP – 150
Speciality – ex
Card Number – 108/112
EX Legend Maker 2006

Stage – 2
HP – 100
Speciality – None
Card Number – 5/92
Diamond and Pearl Base Set 2007


Stage – 2
HP – 110
Level – 39
Card Number – 27/130
DP Stormfront 2008

Stage – 2
HP – 110
Level- 43
Card Number – 18/100
Platinum Rising Rivals 2009

Stage – 2
HP – 70
Level – 65
Card Number – 40/111
Platinum Arceus 2009

Stage – 2
HP – 110
Level – 44
Card Number – 16/99

Stage – 2
HP – 120
Level – 46
Card Number – 17/99
Stage – Level Up
HP – 140
Level – LV.X
Card Number – 97/99
HGSS Triumphant 2010


Stage – 2
HP – 130
Speciality – None
Card Number – 94/102
XY Promo Cards 2013 – 2016

Stage – Mega
HP – 220
Speciality – EX
Card Number – XY166
XY Phantom Forces 2014


Stage – Basic
HP – 170
Speciality – EX
Card Number – 34/119

Stage – Mega
HP – 220
Speciality – EX
Card Number – 35/119
Gengar Spirit Link
Trainer –
Item
Card Number – 95/119
Stage – Basic
HP – 170
Speciality – EX
Card Number – 114/119

Stage – Mega
HP – 220
Speciality – EX
Card Number – 121/119
XY BREAKThrough 2015

Stage – 2
HP – 130
Speciality – None
Card Number – 60/162
XY Generations 2016

Stage – 2
HP – 130
Speciality – None
Card Number – 35/83
SM Crimson Invasion 2017

Stage – 2
HP – 130
Speciality – None
Card Number – 38/111
SM Team Up 2019


Gengar & Mimikyu Tag Team
Stage – Basic
HP – 240
Speciality – GX
Card Number – 53/181
Gengar & Mimikyu Tag Team
Stage – Basic
HP – 240
Speciality – GX
Card Number – 164/181
Gengar & Mimikyu Tag Team
Stage – Basic
HP – 240
Speciality – GX
Card Number – 165/181
Gengar & Mimikyu Tag Team
Stage – Basic
HP – 240
Speciality – GX
Card Number – 186/181
SM Unbroken Bonds 2019

Stage – 2
HP –  110
Speciality – None
Card Number – 70/214
Sword and Shield Promo Cards 2020 – 2023

Stage – 2
HP –  110
Speciality – None
Card Number – SWSH052

Stage – 2
HP –  120
Speciality – None
Card Number – SWSH241
Sword and Shield Base Set 2020


Stage – 2
HP –  110
Speciality – None
Card Number – 085/202
SWSH Chilling Reign 2021

Stage – 2
HP –  130
Speciality – None
Card Number – 057/198
SWSH Fusion Strike 2021

Stage – Basic
HP –  210
Speciality – V
Form – Single Strike
Card Number – 156/264
Stage – VMAX
HP –  320
Speciality – VMAX
Form – Single Strike
Card Number – 157/264

Stage – VMAX
HP –  320
Speciality – VMAX
Form – Single Strike
Card Number – 271/264
SWSH Lost Origin 2022


Stage – 2
HP –  120
Speciality – None
Card Number – 066/196
Stage – 2
HP –  120
Speciality – None
Card Number – TG06/TG30
SV 151 2023


Stage – 2
HP –  130
Speciality – None
Card Number – 094/165
Gallery