Onix Pokédex Information
Onix is a Rock / Ground type Pokémon that first appeared in the games Pokémon Red and Blue which released in Japan on 12th September 1999. It evolves to Steelix.
Onix is a very long Pokémon that is based on a snake. Its head and body are comprised of a series of grey rocks. The largest rock forms its head and the rocks that make up its body get smaller and smaller towards its tail. The rock that forms its head has markings that form its nose, mouth and eyes and at the top is a large, flat, triangular projection. As it digs through the ground, it absorbs many hard objects. This is what makes its body so solid.
Contents
Onix Pokédex Facts
Evolutions
Onix Pokédex Entries
TCG Cards
Onix Pokédex Facts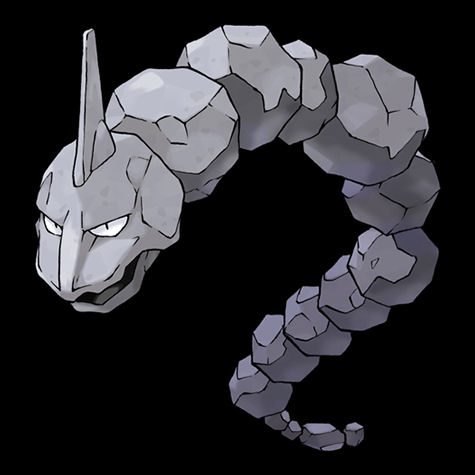 English Name – Onix
Japanese Name – Iwāku
First Appearance – 1999 (Pokémon Red and Blue)
Based on – Snake
Generation – I
Pokédex Number – 0095
Category – Rock Snake
Height – 8.8 m
Weight – 210 kg
Gender – Male, Female
Primary Type – Rock
Secondary Type – Ground
Weakness – Fighting, Grass, Ground, Ice, Steel, Water
Special Abilities – Rock Head, Sturdy
Onix Evolutions
Evolution – Onix evolves to Steelix (with Metal Coat).
Onix
with Metal Coat

 

Steelix
Onix Pokédex Entries / Games
Pokémon Red and Blue 1999
Pokémon Yellow  2000
Pokémon Stadium  2000
Gold and Silver  1999
Pokémon Crystal 2000
Pokémon Stadium 2 2000
Ruby and Sapphire  2002
Pokémon Emerald  2004
FireRed and LeafGreen  2005
Diamond and Pearl  2006
Platinum  2008
HeartGold and SoulSilver  2009
Pokémon Black and White  2011
Black 2 and White 2  2012 
Pokémon X and Y  2013
Omega Ruby, Alpha Sapphire  2015  
Let's Go Pikachu, Let's Go Eevee 2018
Sword and Shield 2019
Brilliant Diamond, Shining Pearl  2021
Legends Arceus 2022
Onix Card List – (scroll to bottom for gallery view)
Pokémon Base Set 1999

Stage – Basic
HP – 90
Level – 12
Card Number – 56/102
Pokémon Base Set 2 2000


Stage – Basic
HP – 90
Level – 12
Card Number – 84/130
Pokémon Gym Heroes 2000


Stage – Basic
HP – 70
Level – 30
Card Number – 21/132

Stage – Basic
HP – 100
Level – 41
Card Number – 69/132
Neo Genesis 2000

Stage – Basic
HP – 60
Level – 22
Card Number – 69/111
Pokémon Southern Islands 2001

Stage – Basic
HP – 90
Level – 40
Card Number – 3/18
Pokémon Legendary Collection 2002


Stage – Basic
HP – 90
Level – 12
Card Number – 84/110
Pokémon Aquapolis 2003


Stage – Basic
HP – 60
Speciality – None
Card Number – 98/147
EX Sandstorm 2003

Stage – Basic
HP – 80
Speciality – None
Card Number – 71/100
EX FireRed, LeafGreen 2004

Stage – Basic
HP – 80
Speciality – None
Card Number – 42/112
EX Team Rocket Returns 2004


Stage – Basic
HP – 80
Speciality – None
Card Number – 69/109
EX Unseen Forces 2005

Stage – Basic
HP – 80
Speciality – None
Card Number – 65/115
Diamond and Pearl Base Set 2007

Stage – Basic
HP – 90
Level – 22
Card Number – 92/130
DP Stormfront 2008

Stage – Basic
HP – 90
Level- 25
Card Number – 69/100
HGSS Unleashed 2010

Stage – Basic
HP – 90
Speciality – None
Card Number – 56/95
Stage – Basic
HP – 90
Speciality – None
Card Number – 57/95
BW Plasma Freeze 2013


Stage – Basic
HP – 100
Speciality – None
Card Number – 61/116
XY Evolutions 2016


Stage – Basic
HP – 100
Speciality – None
Card Number – 61/108
SM Celestial Storm 2018

Stage – Basic
HP – 100
Speciality – None
Card Number – 71/168
SM Lost Thunder 2018


Stage – Basic
HP – 120
Speciality – None
Card Number – 109/214
SM Unified Minds 2019


Stage – Basic
HP –  110
Speciality – None
Card Number – 103/236
SM Hidden Fates 2019

Stage – Basic
HP –  200
Speciality – GX
Card Number – 36/68
McDonald's Collection 2019

Stage – Basic
HP –  100
Speciality – None
Card Number – 9/12
SM Cosmic Eclipse 2019

Stage – Basic
HP –  110
Speciality – None
Card Number – 105/236
SWSH Battle Styles 2021

Stage – Basic
HP –  110
Speciality – None
Card Number – 068/163
SWSH Fusion Strike 2021


Stage – Basic
HP –  110
Speciality – None
Card Number – 138/264
SWSH Pokémon Go 2022

Stage – Basic
HP –  120
Speciality – None
Card Number – 036/078
SV 151 2023

Stage – Basic
HP –  120
Speciality – None
Card Number – 095/165
SV Paradox Rift 2023

Stage – Basic
HP –  120
Speciality – None
Card Number – 090/182
Gallery