Articuno Pokédex Information
Articuno first appeared in Pokémon Red and Blue which released internationally on 28th September 1998.
Articuno is one of the three legendary birds, the others being Moltres and Zapdos. It is a large blue bird, based on a bird of prey, with pale coloured chest feathers and a very long tail. It has a long neck and a sharp pointed beak. 
It is said that this Pokémon's beautiful blue wings are made of ice. Articuno flies over snowy mountains, its long tail fluttering along behind it.
Contents
Articuno Pokédex Facts
Articuno Evolutions
Articuno Pokédex Entries
Articuno Cards
Articuno Pokédex Facts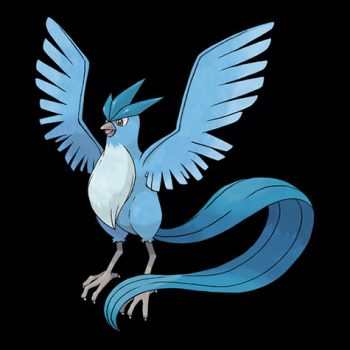 English Name – Articuno
Japanese Name – Furīzā
First Appearance – Pokémon Red and Blue
Based on – Bird of Prey
Generation – I
Pokédex Number – 144
Normal Form
Category – Freeze
Height – 1.7 m
Weight – 55.4 kg
Gender – Unknown
Primary Type – Ice
Secondary Type – Flying
Weakness – Electric, Fire, Rock, Steel
Special Ability – Pressure
Galarian Form
Category – Cruel
Height – 1.7 m
Weight – 50.9 kg
Gender – Unknown
Primary Type – Psychic
Secondary Type – Flying
Weakness – Dark, Electric, Ghost, Ice Rock
Special Ability – Competitive
Articuno Evolutions
Evolution – Articuno does not evolve, it is a legendary Pokémon
Articuno Pokédex Entries – Games Featuring Articuno
Pokémon Red and Blue  1998
Pokémon Yellow  1999
Pokémon Stadium  2000
Pokémon Gold and Silver  2000
Pokémon Crystal  2001
Pokémon Stadium 2  2001
Pokémon Ruby and Sapphire  2002
Pokémon Emerald  2004
FireRed and LeafGreen  2004
Diamond and Pearl  2007
Pokémon Platinum  2009
HeartGold and SoulSilver  2010 
Black and White  2011
Black2 and White2  2012
Pokémon X and Y  2013
Omega Ruby and Alpha Sapphire  2014
Let's Go Pikachu and Let's Go Eevee  2018
Sword and Shield  2019
Brilliant Diamond and Shining Pearl  2021
Articuno Card List – (scroll to bottom for gallery view)
Wizards of the Coast Promo Cards 1999

Stage – Basic
HP – 70
Level – 34
Card Numbers – 22
Stage – Basic
HP – 120
Level – 34
Card Numbers – 48
Fossil (1999)

Stage – Basic
HP – 70
Level – 35
Card Number – 2/62
Stage – Basic
HP – 70
Level – 35
Card Number – 17/62
Legendary Collection (2002)

Stage – Basic
HP – 120
Level – 35
Card Number – 2/110
Skyridge (2003)

Stage – Basic
HP – 80
Card Number – 4/144
EX Fire Red and Leaf Green (2004)

Articuno ex
Stage – Basic
HP – 110
Card Number – 114/112
EX Team Rocket Returns (2004)

Rocket's Articuno ex
Stage – Basic
HP – 100
Card Number – 96/109
Diamond and Pearl Majestic Dawn (2008)

Stage – Basic
HP – 100
Level – 46
Card Number – 1/100
Platinum Supreme Victors (2009)

Stage – Basic
HP – 100
Level – 41
Card Number – 16/147
Stage – Basic
HP – 70
Level 34
Card Number – 148/147
Black & White Next Destinies (2012)

Stage – Basic
HP – 120
Card Number – 27/99
BW Plasma Storm (2013)

Stage – Basic
HP – 170
Speciality – EX
Card Number – 25/135
Stage – Basic
HP – 170
Speciality – EX
Card Number – 132/135
BW Legendary Treasures (2013)

Stage – Basic
HP – 120
Speciality – None
Card Number – 32/113
XY Roaring Skies (2015)


Stage – Basic
HP – 120
Card Number – 16/108
Stage – Basic
HP – 120
Card Number – 17/108
XY Generations (2016)

Stage – Basic
HP – 120
Card Number – 25/83
Sun and Moon Promo Cards (2016 – 2019)

Moltres, Zapdos & Articuno Tag Team
Stage – Basic
HP – 300
Speciality – GX
Card Number – SM210

Stage – Basic
HP – 120
Speciality – None
Card Number – SM144
SM Celestial Storm (2018)

Stage – Basic
HP – 170
Speciality – GX
Card Numbers – 31/168
Stage – Basic
HP – 170
Speciality – GX
Card Numbers – 154/168
Stage – Basic
HP – 170
Speciality – GX
Card Numbers – 171/168
SM Team Up (2019)

Stage – Basic
HP – 110
Speciality – None
Card Number – 32/181
SM Hidden Fates (2019)

Stage – Basic
HP – 170
Speciality – GX
Card Number – SV54/SV94
Moltres, Zapdos & Articuno Tag Team
Stage – Basic
HP – 300
Speciality – GX
Card Number – 44/68
Moltres, Zapdos & Articuno Tag Team
Stage – Basic
HP – 300
Speciality – GX
Card Number – 66/68
Moltres, Zapdos & Articuno Tag Team
Stage – Basic
HP – 300
Speciality – GX
Card Number – 69/68
Sword and Shield Promo Cards (2020 – 2022)

Stage – Basic
HP – 120
Speciality – None
Form – Galarian
Card Number – SWSH123
Stage – Basic
HP – 120
Speciality – None
Form – Galarian
Card Number – SWSH282
SWSH Chilling Reign (2021)

Galarian Articuno
Stage – Basic
HP – 210
Speciality – V
Card Number – 058/198
Galarian Articuno
Stage – Basic
HP – 210
Speciality – V
Card Number – 169/198
Galarian Articuno
Stage – Basic
HP – 210
Speciality – V
Card Number – 170/198
SWSH Evolving Skies (2021)

Galarian Articuno
Stage – Basic
HP – 120
Speciality – None
Card Number – 063/203
SWSH Brilliant Stars (2022)

Galarian Articuno
Stage – Basic
HP – 210
Speciality – V
Card Number – 181/172
SWSH Astral Radiance (2022)

Galarian Articuno
Stage – Basic
HP – 210
Speciality – V
Card Number – TG16/TG30
Pokémon Go (2022)

Galarian Articuno
Stage – Basic
HP – 120
Speciality – None
Card Number – 024/078
SWSH Silver Tempest 2022

Stage – Basic
HP – 110
Speciality – None
Card Number – 036/195
Gallery