Pikachu Pokédex Information
Pikachu first appeared in Pokémon Red and Blue which released internationally on 28th September 1998.
Pikachu is a short yellow rodent character. It has large ears which have black tips. Its black eyes are bright and its facial features are expressive. The character is generally depicted with red cheeks but rarely will have yellow cheeks. Its tail is shaped like a lightning bolt. 
Pikachu that can generate powerful electricity have cheek sacs that are extra soft and super stretchy.
Contents
Pikachu Pokédex Facts
Evolutions
Pikachu Pokédex Entries
TCG Cards
Pikachu Pokédex Facts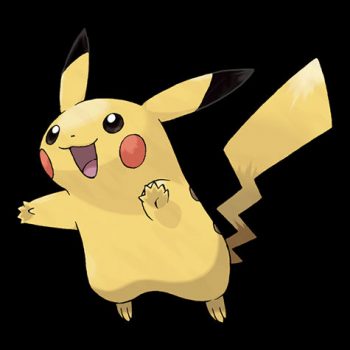 English Name – Pikachu
Japanese Name – Pikachu
First Appearance – 1996 (Pokémon Red and Blue)
Generation – I
Pikachu Pokédex Number – 024
Category – Mouse
Height – 0.4 m
Weight – 6.0 kg
Gender – Male or Female
Type – Electric
Weakness – Ground
Special Ability – Static
Pikachu Evolutions
Evolution – evolves from Pichu (friendship level 22), evolves to Raichu (with Thunder Stone)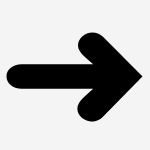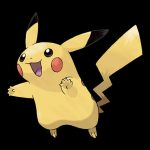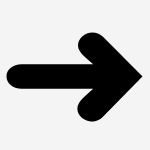 Pikachu Pokédex Entries / Games
Pokémon Red and Blue  1998
Pokémon Yellow  1999
Pokémon Stadium  2000
Pokémon Gold and Silver  2000
Pokémon Crystal  2001
Pokémon Stadium 2  2001
Pokémon Ruby and Sapphire  2002
Pokémon Emerald  2004
FireRed and LeafGreen  2004
Diamond and Pearl  2007
Pokémon Platinum  2009
HeartGold and SoulSilver  2010 
Black and White  2011
Black2 and White2  2012
Pokémon X and Y  2013
Omega Ruby and Alpha Sapphire  2014
Sun and Moon  2016
Ultra Sun and Ultra Moon  2017
Let's Go Pikachu and Let's Go Eevee  2018
Sword and Shield  2019
Sword and Shield Expansion  2020
Brilliant Diamond and Shining Pearl  2021
Pokémon Legends Arceus  2022
Pikachu Cards List – (scroll to bottom for gallery view)
Base Set (1999)


Stage Basic
HP – 40
Level 12
Card Number – 58/102
Jungle (1999)

Stage Basic
HP – 50
Level 14
Card Number – 60/64
Wizards of the Coast Promos

Stage Basic
HP – 60
Level 16
Card Number – 1

Stage Basic
HP – 50
Level 13
Card Number – 4

Stage Basic
HP – 40
Level 9
Card Number – 26
Stage Basic
HP – 30
Level 5
Card Number – 27
Birthday Pikachu
Stage Basic
HP – 50
Level 17
Card Number – 24
Flying Pikachu
Stage Basic
HP – 40
Level 12
Card Number – 25

Surfing Pikachu
Stage Basic
HP – 50
Level 13
Card Number – 28
Base Set 2 (2000)

Stage Basic
HP – 40
Level 12
Card Number – 87/130
Gym Heroes (2000)


Lt Surge's Pikachu
Stage Basic
HP – 50
Level 15
Card Number – 81/132
Gym Challenge (2000)

Lt Surge's Pikachu
Stage Basic
HP – 40
Level 10
Card Number – 84/132
Neo Genesis (2000)

Stage Basic
HP – 50
Level – 15
Card Number – 70/111
Legendary Collection (2002)


Stage Basic
HP – 50
Level – 14
Card Number – 86/110
Expedition Base (2002)

Stage Basic
HP – 50
Card Number – 124/165
Nintendo Promo Cards (2003)


Stage Basic
HP – 50
Card Numbers – 012

Stage Basic
HP – 40
Card Numbers – 035
Skyridge (2003)


Stage Basic
HP – 50
Card Number – 84/144
EX Sandstorm (2003)

Stage Basic
HP – 50
Card Number – 72/100
EX Team Magma vs Team Aqua (2004)


Stage Basic
HP – 50
Card Number – 43/95
EX FireRed LeafGreen (2004)


Stage Basic
HP – 50
Card Number – 74/112
EX Emerald (2005)


Stage Basic
HP – 50
Card Number – 60/106
POP Series 2 (2005)


Stage Basic
HP – 40
Card Number – 16/17
EX Delta Species (2005)


Ditto Pikachu
HP – 60
Stage Basic
Card Number – 39/113

Ditto Pikachu
HP – 60
Stage Basic
Card Number – 63/113
EX Legend Maker (2006)


Stage Basic
HP – 40
Card Number – 93/92
EX Holon Phantoms (2006)


Stage Basic
HP – 50
Card Number – 78/110

Stage Basic
HP – 50
Card Number – 79/110
Stage Basic
HP – 60
Speciality – Gold Star
Card Number – 104/110
POP Series 4 (2006)


Stage Basic
HP – 50
Card Number – 13/17
EX Power Keepers (2007)


Stage Basic
HP – 40
Card Number – 57/108
POP Series 5 (2007)


Stage Basic
HP – 50
Card Number – 12/17

Stage Basic
HP – 50
Card Number – 13/17
Diamond and Pearl Promo Cards (2007)

Stage Basic
HP – 60
Card Number – DP16
DP Mysterious Treasures (2007)


Stage Basic
HP – 60
Level 15
Card Number – 94/122
POP Series 6 (2007)

Stage Basic
HP – 50
Level 13
Card Number – 9/17
DP Majestic Dawn (2008)


Stage Basic
HP – 60
Level 12
Card Number – 70/100
DP Stormfront (2008)

Stage Basic
HP – 70
Level 20
Card Number – 70/100
POP Series 9 (2009)

Stage Basic
HP – 60
Level 18
Card Number – 15/17
Platinum Rising Rivals (2009)

Stage Basic
HP – 40
Level 12
Card Number – 112/111

Flying Pikachu
Stage Basic
HP – 40
Level 12
Card Number – 113/111

Surfing Pikachu
Stage Basic
HP – 50
Level 13
Card Number – 114/111
Platinum Supreme Victors  (2009)


Stage Basic
HP – 50
Level – 11
Card Number – 120/147
Platinum Arceus  (2009)


Stage Basic
HP – 60
Level – 17
Card Number – 71/99
Pokémon Rumble  (2009)

Stage Basic
HP – 60
Level – 16
Card Number – 7/16
HeartGold SoulSilver Promo Cards  (2010)


Stage Basic
HP – 70
Card Number – HGSS03
HeartGold SoulSilver Base Set  (2010)


Stage Basic
HP – 60
Card Number – 78/123
HGSS Undaunted  (2010)


Stage Basic
HP – 50
Card Number – 61/90
Black and White Promo Cards  (2010)


Stage Basic
HP – 60
Card Number – BW54
Black and White Base Set  (2010)


Stage Basic
HP – 60
Card Number – 115/114
BW Next Destinies  (2012)


Stage Basic
HP – 60
Card Number – 39/99
BW Boundaries Crossed  (2012)


Stage Basic
HP – 60
Card Number – 50/149
XY Promo Cards  (2013)


Stage Basic
HP – 130
Speciality – EX
Card Number – XY84

Stage Basic
HP – 130
Speciality – EX
Card Number – XY124

Stage Basic
Speciality – EX
Card Number – XY174

Stage – Basic
HP – 60
Speciality – None
Card Number – XY89

Stage – Basic
HP – 60
Speciality – None
Card Number – XY95
Stage Basic
HP – 50
Card Number – XY202
McDonalds Collection  (2013)


Stage Basic
HP – 60
Card Number – 5/12
Radiant Collection  (2013)


Stage Basic
HP – 60
Card Number – RC7/RC25
XY Base Set  (2014)


Stage Basic
HP – 60
Card Number – 42/146
McDonalds Collection  (2014)


Stage Basic
HP 60
Card Number – 5/12
XY Furious Fists  (2014)


Stage Basic
HP – 60
Card Number – 27/111
XY Roaring Skies  (2015)


Stage Basic
HP – 60
Card Number – 20/108
XY Breakthrough  (2015)


Stage Basic
HP – 60
Card Number – 48/162
McDonalds Collection  (2015)


Stage Basic
HP – 60
Card Number – 6/12
XY Generations  (2016)


Stage Basic
HP – 60
Card Number – 26/83

Stage Basic
HP – 60
Card Number – RC29/RC32
McDonalds Collection  (2016)

Stage Basic
HP – 60
Card Number – 6/12
XY Evolutions (2016)


Stage Basic
HP – 60
Card Number – 35/108
Flying Pikachu
Stage Basic
HP – 40
Card Number – 110/108

Surfing Pikachu
Stage Basic
HP – 50
Card Number 111/108
Sun and Moon Promo Cards (2017 – 2019)

Stage Basic
HP – 160
Speciality – GX
Card Number – SM232
Pikachu & Zekrom Tag Team
Stage Basic
HP – 240
Speciality – GX
Card Number – SM168

Stage Basic
HP – 70
Speciality – None
Card Numbers – SM04
Stage Basic
HP – 70
Speciality – None
Card Numbers – SM76

Stage Basic
HP – 70
Speciality – None
Card Numbers – SM81

Stage Basic
HP – 60
Speciality – None
Card Numbers – SM86
Stage Basic
HP – 60
Speciality – None
Card Numbers – SM98

Stage Basic
HP – 60
Speciality – None
Card Numbers – SM157

Stage Basic
HP – 60
Speciality – None
Card Numbers – SM162
Stage Basic
HP – 90
Speciality – None
Card Numbers – SM170

Stage Basic
HP – 70
Speciality – None
Card Numbers – SM183

Detective Pikachu
Stage Basic
HP – 90
Speciality – None
Card Numbers – SM190

Detective Pikachu
Stage Basic
HP – 90
Speciality – None
Card Numbers –  SM194
Stage Basic
HP – 60
Speciality – None
Card Numbers –  SM206

Stage Basic
HP – 60
Speciality – None
Card Numbers – SM227

Stage Basic
HP – 60
Speciality – None
Card Numbers – SM234
Sun and Moon Stamped Promo Cards (2016 – 2019)

Stage Basic
HP – 60
Speciality – None
Card Numbers – SM86 (stamped Build-A-Bear Workshop)
Stage Basic
HP – 90
Speciality – None
Card Numbers – SM190 (stamped Detective Pikachu)

Ash's Pikachu
Stage – Basic
HP – 70
Speciality – None
Card Numbers – SM108 (stamped I Choose You)
Ash's Pikachu
Stage – Basic
HP – 70
Speciality – None
Card Numbers – SM109 (stamped I Choose You)
Ash's Pikachu
Stage – Basic
HP – 70
Speciality – None
Card Numbers – SM110 (stamped I Choose You)

Ash's Pikachu
Stage Basic
HP – 70
Speciality – None
Card Numbers – SM111 (stamped I Choose You)
Ash's Pikachu
Stage Basic
HP – 70
Speciality – None
Card Numbers – SM112 (stamped I Choose You)

Ash's Pikachu
Stage Basic
HP – 70
Speciality – None
Card Numbers – SM113 (stamped I Choose You)
Ash's Pikachu
Stage Basic
HP – 70
Speciality – None
Card Numbers – SM114 (stamped I Choose You)
McDonalds Collection  (2017)

Stage Basic
HP – 70
Speciality – None
Card Number – 5/12
SM  Burning Shadows (2017)


Stage Basic
HP – 60
Speciality – None
Card Number – 40/147
SM Shining Legends (2017)


Stage Basic
HP – 60
Speciality – None
Card Number – 28/73
SM Crimson Invasion (2017)

Stage Basic
HP – 60
Speciality – None
Card Number – 30/111
McDonalds Collection  (2018)


Stage Basic
HP – 60
Speciality – None
Card Number – 4/12
SM Team Up (2017)

Pikachu & Zekrom Tag Team
Stage Basic
HP – 240
Speciality – GX
Card Number – 33/181

Pikachu & Zekrom Tag Team
Stage Basic
HP – 240
Speciality – GX
Card Number – 162/181
Pikachu & Zekrom Tag Team
Stage Basic
HP – 240
Speciality – GX
Card Number – 184/181
SM Unbroken Bonds (2019)

Stage Basic
HP – 70
Speciality – None
Card Number – 54/214
Detective Pikachu (2019)


Stage Basic
HP – 90
Speciality – None
Card Number – 10/18
SM Unified Minds (2019)

Stage Basic
HP – 60
Speciality – None
Card Number – 55/236
Stage Basic
HP – 70
Speciality – None
Card Number – 56/236
SM Hidden Fates (2019)

Stage Basic
HP – 70
Speciality – None
Card Number – 19/68
McDonalds Collection  (2019)

Stage Basic
HP – 60
Speciality – None
Card Number – 6/12
SM Cosmic Eclipse (2019)


Stage Basic
HP – 70
Speciality – None
Card Number – 66/236

Stage Basic
HP – 70
Speciality – None
Card Number – 241/236
Sword and Shield Promo Cards (2019 – 2022)

Stage Basic
HP – 190
Speciality – V
Card Number – SWSH061
Stage Basic
HP – 190
Speciality – V
Card Number – SWSH063
Stage Basic
HP – 190
Speciality – V
Card Number – SWSH143
Stage Basic
HP – 190
Speciality – V
Card Number – SWSH145

Stage Basic
HP – 70
Speciality – None
Card Number – SWSH020
Stage Basic
HP – 60
Speciality – None
Card Number – SWSH039
Stage Basic
HP – 60
Speciality – None
Card Number – SWSH074
Stage V-Union
HP – 300 (when 4 parts combined)
Speciality – None
Card Number – SWSH139
Stage V-Union
HP – 300 (when 4 parts combined)
Speciality – None
Card Number – SWSH140
Stage V-Union
HP – 300 (when 4 parts combined)
Speciality – None
Card Number – SWSH141

Stage V-Union
HP – 300 (when 4 parts combined)
Speciality – None
Card Number – SWSH142
Sword and Shield Base Set (2020)

Stage Basic
HP – 60
Speciality – None
Card Number – 065/202
Futsal Promo Card (2020)


Stage Basic
HP – 60
Speciality – None
Card Number – 001/005
SWSH Vivid Voltage (2020)

Stage – VMAX
HP – 310
Speciality – VMAX
Card Number – 044/185
Stage – VMAX
HP – 310
Speciality – VMAX
Card Number – 188/185
Stage Basic
HP – 190
Speciality – V
Card Number – 043/185
Stage Basic
HP – 190
Speciality – V
Card Number – 170/185
McDonalds 25th Anniversary Celebration  (2021)

Stage Basic
HP – 60
Speciality – None
Card Number – 25/25 (Holo and non-Holo versions)
SWSH Evolving Skies (2021)

Stage – Basic
HP – 60
Speciality – None
Card Number – 049/203
Celebrations 2021

Stage – Basic
HP – 60
Speciality – None
Card Number – 005/025

Flying Pikachu
Stage – Basic
HP – 190
Speciality – V
Card Number – 006/025

Surfing Pikachu
Stage – Basic
HP – 200
Speciality – V
Card Number – 008/025

Flying Pikachu
Stage – VMAX
HP – 310
Speciality – VMAX
Card Number – 007/025
Surfing Pikachu
Stage – VMAX
HP – 310
Speciality – VMAX
Card Number – 009/025
Birthday Pikachu
Stage – Basic
HP – 50
Speciality – None
Card Number – 25
SWSH Fusion Strike (2021)


Stage – Basic
HP – 200
Speciality – V
Card Number – 086/264
SWSH Brilliant Stars (2022)


Stage – Basic
HP – 190
Speciality – V
Card Number – 157/172
Pokémon Go (2022)

Stage – Basic
HP – 60
Speciality – None
Card Number – 027/078

Stage – Basic
HP – 70
Speciality – None
Card Number – 028/078
Gallery