Pokémon Generation II launched in Japan on 21st November 2003 and made its international debut on October 2000 with Pokémon Gold and Silver. Pokémon Crystal was released in Japan in 2000 and internationally in 2001.
There are a total of 100 Generation II Pokémon with the first being Chikorita and the last being Celebi.
Generation II is set in the Johto Region which is based on the Kansai, Tokai and eastern Shikoku regions of Japan. Professor Elm is the resident Professor and the starter Pokémon are Chikorita, Cyndaquil and Totodile.
See also: Generation II Trainers
Generation II Pokémon – Complete List
Chikorita
Pokédex Number – 0152
Category – Leaf
Primary Type – Grass
Evolution – Chikorita -> Bayleaf -> Meganium
Bayleef
Pokédex Number – 0153
Category – Leaf
Primary Type – Grass
Evolution – Chikorita -> Bayleaf -> Meganium
Meganium
Pokédex Number – 0154
Category – Herb
Primary Type – Grass
Evolution – Chikorita -> Bayleaf -> Meganium
Cyndaquil
Pokédex Number – 0155
Category – Fire Mouse
Primary Type – Fire
Evolution – Cyndaquil -> Quilava -> Typhlosion
Quilava
Pokédex Number – 0156
Category – Volcano
Primary Type – Fire
Evolution – Cyndaquil -> Quilava -> Typhlosion
Typhlosion
Pokédex Number – 0157
Category – Volcano
Primary Type – Fire
Evolution – Cyndaquil -> Quilava -> Typhlosion
Totodile
Pokédex Number – 0158
Category – Big Jaw
Primary Type – Water
Evolution – Totodile -> Croconaw -> Feraligatr
Croconaw
Pokédex Number – 0159
Category – Big Jaw
Primary Type – Water
Evolution – Totodile -> Croconaw -> Feraligatr
Feraligatr
Pokédex Number – 0160
Category – Big Jaw
Primary Type – Water
Evolution – Totodile -> Croconaw -> Feraligatr
Sentret
Pokédex Number – 0161
Category – Scout
Primary Type – Normal
Evolution – Sentret -> Furret
Furret
Pokédex Number – 0162
Category – Long Body
Primary Type – Normal
Evolution – Sentret -> Furret
Hoothoot
Pokédex Number – 0163
Category – Owl
Primary Type – Normal
Secondary Type – Flying
Evolution – Hoothoot -> Noctowl
Noctowl
Pokédex Number – 0164
Category – Owl
Primary Type – Normal
Secondary Type – Flying
Evolution – Hoothoot -> Noctowl
Ledyba
Pokédex Number – 0165
Category – Five Star
Primary Type – Bug
Secondary Type – Flying
Evolution – Ledyba -> Ledian
Ledian
Pokédex Number – 0166
Category – Five Star
Primary Type – Bug
Secondary Type – Flying
Evolution – Ledyba -> Ledian
Spinarak
Pokédex Number – 0167
Category – String Spit
Primary Type – Bug
Secondary Type – Poison
Evolution – Spinarak -> Ariados
Ariados
Pokédex Number – 0168
Category – Long Leg
Primary Type – Bug
Secondary Type – Poison
Evolution – Spinarak -> Ariados
Crobat
Pokédex Number – 0169
Category – Bat
Primary Type – Poison
Secondary Type – Flying
Evolution – Zubat -> Golbat -> Crobat
Chinchou
Pokédex Number – 0170
Category – Angler
Primary Type – Water
Secondary Type – Electric
Evolution – Chinchou -> Lanturn
Lanturn
Pokédex Number – 0171
Category – Light
Primary Type – Water
Secondary Type – Electric
Evolution – Chinchou -> Lanturn
Pichu
Pokédex Number – 0172
Category – Tiny Mouse
Primary Type – Electric
Evolution – Pichu -> Pikachu -> Raichu
Cleffa
Pokédex Number – 0173
Category – Star Shape
Primary Type – Fairy
Evolution – Cleffa -> Clefairy -> Clefable
Igglybuff
Pokédex Number – 0174
Category – Balloon
Primary Type – Normal
Secondary Type – Fairy
Evolution – Igglybuff -> Jigglypuff -> Wigglytuff
Togepi
Pokédex Number – 0175
Category – Spike Ball
Primary Type – Fairy
Evolution – Togepi -> Togetic -> Togekiss
Togetic
Pokédex Number – 0176
Category – Happiness
Primary Type – Fairy
Secondary Type – Flying
Evolution – Togepi -> Togetic -> Togekiss
Natu
Pokédex Number – 0177
Category – Tiny Bird
Primary Type – Psychic
Secondary Type – Flying
Evolution – Natu -> Xatu
Xatu
Pokédex Number – 0178
Category – Mystic
Primary Type – Psychic
Secondary Type – Flying
Evolution – Natu -> Xatu
Mareep
Pokédex Number – 0179
Category – Wool
Primary Type – Electric
Evolution – Mareep -> Flaaffy -> Ampharos
Flaaffy
Pokédex Number – 0180
Category – Wool
Primary Type – Electric
Evolution – Mareep -> Flaaffy -> Ampharos
Ampharos
Pokédex Number – 0181
Category – Light
Primary Type – Electric
Evolution – Mareep -> Flaaffy -> Ampharos
Bellossom
Pokédex Number – 0182
Category – Flower
Primary Type – Grass
Evolution – Oddish -> Gloom -> Bellossom
Marill
Pokédex Number – 0183
Category – Aqua Mouse
Primary Type – Water
Secondary Type – Fairy
Evolution – Azurill -> Marill -> Azumarill
Azumarill
Pokédex Number – 0184
Category – Aqua Rabbit
Primary Type – Water
Secondary Type – Fairy
Evolution – Azurill -> Marill -> Azumarill
Sudowoodo
Pokédex Number – 0185
Category – Imitation
Primary Type – Rock
Evolution – Bonsly -> Sudowoodo
Politoed
Pokédex Number – 0186
Category – Frog
Primary Type – Water
Evolution – Poliwag -> Poliwhirl -> Politoed
Hoppip
Pokédex Number – 0187
Category – Cottonweed
Primary Type – Grass
Secondary Type – Flying
Evolution – Hoppip -> Skiploom -> Jumpluff
Skiploom
Pokédex Number – 0188
Category – Cottonweed
Primary Type – Grass
Secondary Type – Flying
Evolution – Hoppip -> Skiploom -> Jumpluff
Jumpluff
Pokédex Number – 0189
Category – Cottonweed
Primary Type – Grass
Secondary Type – Flying
Evolution – Hoppip -> Skiploom -> Jumpluff
Aipom
Pokédex Number – 0190
Category – Long Tail
Primary Type – Normal
Evolution – Aipom -> Ambipom
Sunkern
Pokédex Number – 0191
Category – Seed
Primary Type – Grass
Evolution – Sunkern -> Sunflora
Sunflora
Pokédex Number – 0192
Category – Sun
Primary Type – Grass
Evolution – Sunkern -> Sunflora
Yanma
Pokédex Number – 0193
Category – Clear Wing
Primary Type – Bug
Secondary Type – Flying
Evolution – Yanma -> Yanmega
Wooper
Pokédex Number – 0194
Category – Water Fish
Primary Type – Water
Secondary Type – Ground
Evolution – Wooper -> Quagsire
Quagsire
Pokédex Number – 0195
Category – Water Fish
Primary Type – Water
Secondary Type – Ground
Evolution – Wooper -> Quagsire
Espeon
Pokédex Number – 0196
Category – Sun
Primary Type – Psychic
Evolution – Eevee -> Espeon
Umbreon
Pokédex Number – 0197
Category – Moonlight
Primary Type – Dark
Evolution – Eevee -> Umbreon
Murkrow
Pokédex Number – 0198
Category – Darkness
Primary Type – Dark
Secondary Type – Flying
Evolution – Murkrow -> Honchkrow
Slowking
Pokédex Number – 0199
Category – Royal
Primary Type – Water
Secondary Type – Psychic
Evolution – Slowbro -> Slowking
Misdreavus
Pokédex Number – 0200
Category – Screech
Primary Type – Ghost
Evolution – Misdreavus -> Mismagius
Unown
Pokédex Number – 0201
Category – Symbol
Primary Type – Psychic
Evolution – Does not evolve
Wobbuffet
Pokédex Number – 0202
Category – Patient
Primary Type – Psychic
Evolution – Wynaut -> Bobbuffet
Girafarig
Pokédex Number – 0203
Category – Long Neck
Primary Type – Normal
Secondary Type – Psychic
Evolution – Girafarig -> Farigiraf
Pineco
Pokédex Number – 0204
Category – Bagworm
Primary Type – Bug
Evolution – Pineco -> Forretress
Forretress
Pokédex Number – 0205
Category – Bagworm
Primary Type – Bug
Secondary Type – Steel
Evolution – Pineco -> Forretress
Dunsparce
Pokédex Number – 0206
Category – Land Snake
Primary Type – Normal
Evolution – Dunsparce -> Dundunsparce
Gligar
Pokédex Number – 0207
Category – Fly Scorpion
Primary Type – Ground
Secondary Type – Flying
Evolution – Gligar -> Gliscor
Steelix
Pokédex Number – 0208
Category – Iron Snake
Primary Type – Steel
Secondary Type – Ground
Evolution – Onix -> Steelix
Snubbull
Pokédex Number – 0209
Category – Fairy
Primary Type – Fairy
Evolution – Snubbull -> Granbull
Granbull
Pokédex Number – 0210
Category – Fairy
Primary Type – Fairy
Evolution – Snubbull -> Granbull
Qwilfish
Pokédex Number – 0211
Category – Balloon
Primary Type – Water
Secondary Type – Poison
Evolution – Qwilfish -> Overqwil
Scizor
Pokédex Number – 0212
Category – Pincer
Primary Type – Bug
Secondary Type – Steel
Evolution – Scyther -> Scizor
Shuckle
Pokédex Number – 213
Category – Mold
Primary Type – Bug
Secondary Type – Rock
Evolution – Does not evolve
Heracross
Pokédex Number – 0214
Category – Single Horn
Primary Type – Bug
Secondary Type – Fighting
Evolution – Does not evolve
Sneasel
Pokédex Number – 0215
Category – Sharp Claw
Primary Type – Dark
Secondary Type – Ice
Evolution – Sneasel -> Weavile
Teddiursa
Pokédex Number – 0216
Category – Little Bear
Primary Type – Normal
Evolution – Teddiursa -> Usaring or Ursaluna
Usaring
Pokédex Number – 0217
Category – Hibernator
Primary Type – Normal
Evolution – Teddiursa -> Usaring
Slugma
Pokédex Number – 0218
Category – Lava
Primary Type – Fire
Evolution – Slugma -> Magcargo
Magcargo
Pokédex Number – 0219
Category – Lava
Primary Type – Fire
Secondary Type – Rock
Evolution – Slugma -> Magcargo
Swinub
Pokédex Number – 0220
Category – Pig
Primary Type – Ice
Secondary Type – Ground
Evolution – Swinub -> Piloswine -> Mamoswine
Piloswine
Pokédex Number – 0221
Category – Swine
Primary Type – Ice
Secondary Type – Ground
Evolution – Swinub -> Piloswine -> Mamoswine
Corsola
Pokédex Number – 0222
Category – Coral
Primary Type – Water
Secondary Type – Rock
Evolution – Corsola -> Cursola
Remoraid
Pokédex Number – 0223
Category – Jet
Primary Type – Water
Evolution – Remoraid -> Octillery
Octillery
Pokédex Number – 0224
Category – Jet
Primary Type – Water
Evolution – Remoraid -> Octillery
Delibird
Pokédex Number – 0225
Category – Delivery
Primary Type – Ice
Secondary Type – Flying
Evolution – Does not evolve
Mantine
Pokédex Number – 226
Category – Kite
Primary Type – Water
Secondary Type – Flying
Evolution – Mantyke -> Mantine
Skarmory
Pokédex Number – 0227
Category – Armor Bird
Primary Type – Steel
Secondary Type – Flying
Evolution – Does not evolve
Houndour
Pokédex Number – 0228
Category – Dark
Primary Type – Dark
Secondary Type – Fire
Evolution – Houndour -> Houndoom
Houndoom
Pokédex Number – 0229
Category – Dark
Primary Type – Dark
Secondary Type – Fire
Evolution – Houndour -> Houndoom
Kingdra
Pokédex Number – 0230
Category – Dragon
Primary Type – Water
Secondary Type – Dragon
Evolution – Horsea -> Seadra – Kingdra
Phanpy
Pokédex Number – 0231
Category – Long Nose
Primary Type – Ground
Evolution – Phanpy -> Donphan
Donphan
Pokédex Number – 0232
Category – Armor
Primary Type – Ground
Evolution – Phanpy -> Donphan
Porygon2
Pokédex Number – 0233
Category – Virtual
Primary Type – Normal
Evolution – Poyrgon -> Porygon2 -> Porygon-Z
Stantler
Pokédex Number – 0234
Category – Big Horn
Primary Type – Normal
Evolution – Stantler -> Wyrdeer
Smeargle
Pokédex Number – 0235
Category – Painter
Primary Type – Normal
Evolution – Does not evolve
Tyrogue
Pokédex Number – 0236
Category – Scuffle
Primary Type – Fighting
Evolution – Tyrogue -> Hitmonlee or Hitmonchan or Hitmontop
Hitmontop
Pokédex Number – 0237
Category – Handstand
Primary Type – Fighting
Evolution – Tyrogue -> Hitmontop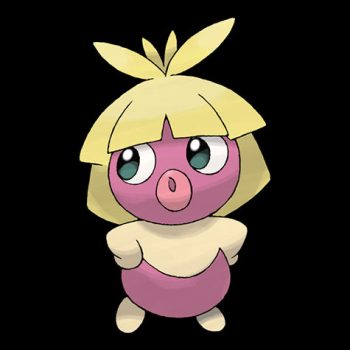 Smoochum
Pokédex Number – 0238
Category – Kiss
Primary Type – Ice
Secondary Type – Psychic
Evolution – Smoochum -> Jynx
Elekid
Pokédex Number – 0239
Category – Electric
Primary Type – Electric
Evolution – Elekid -> Electabuzz -> Electivire
Magby
Pokédex Number – 0240
Category – Live Coal
Primary Type – Fire
Evolution – Magby -> Magmar -> Magmortar
Miltank
Pokédex Number – 0241
Category – Milk Cow
Primary Type – Normal
Evolution – Miltank does not evolve
Blissey
Pokédex Number – 0242
Category – Happiness
Primary Type – Normal
Evolution – Happiny -> Chansey -> Blissey
Raikou
Pokédex Number – 0243
Category – Thunder
Primary Type – Electric
Evolution – Does not evolve
Entei
Pokédex Number – 0244
Category – Volcano
Primary Type – Fire
Evolution – Does not evolve
Suicune
Pokédex Number – 0245
Category – Aurora
Primary Type – Water
Evolution – Does not evolve
Larvitar
Pokédex Number – 0246
Category – Rock Skin
Primary Type – Rock
Secondary Type – Ground
Evolution – Larvitar -> Pupitar -> Tyranitar
Pupitar
Pokédex Number – 0247
Category – Hard Shell
Primary Type – Rock
Secondary Type – Ground
Evolution – Larvitar -> Pupitar -> Tyranitar
Tyranitar
Pokédex Number – 0248
Category – Hypnosis
Primary Type – Rock
Secondary Type – Dark
Evolution – Larvitar -> Pupitar -> Tyranitar
Lugia
Pokédex Number – 0249
Category – Diving
Primary Type – Psychic
Secondary Type – Flying
Evolution – Does not evolve
Ho-Oh
Pokédex Number – 0250
Category – Rainbow
Primary Type – Fire
Secondary Type – Flying
Evolution – Does not evolve
Celebi
Pokédex Number – 0251
Category – Time Travel
Primary Type – Psychic
Secondary Type – Grass
Evolution – Does not evolve